Kaj Scarsbrook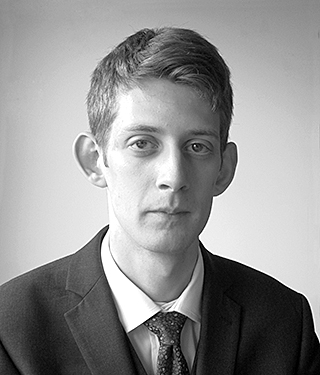 Practice area
Crime
Year of call: 2014
---
Kaj is regularly instructed to both prosecute and defend in a wide range of matters. He practises both in London and across the Western Circuit.
Prior to joining chambers, Kaj worked as a general legal editor at Sweet & Maxwell, working on titles such as Archbold, Criminal Law Week, and Wilkinson's Road Traffic Offences. In 2013 he received a Reserve Commission from the Royal Military Academy Sandhurst and served for five years as an officer in A (London Scottish) Company, the London Regiment. He has since transferred to a specialist unit within the RAF.
Kaj is a Grade 3 prosecutor and is regularly instructed by the CPS as trial counsel, as well as frequently being instructed as a led junior in major and complex trials. He has experience with dealing with complex issues of law and disclosure in such cases. He is accustomed to providing advice from an early stage, working closely with CPS departments and police forces, and is often instructed in cases involving complicated disclosure exercises and encrypted communications.
Kaj has experience defending in a wide variety of cases, both as a led junior and in his own right, ranging from complex fraud to serious sexual offences and assaults. He is approachable and straightforward with his clients and maintains sensitivity and compassion for their needs and concerns.
Kaj has a thriving Courts Martial practice in which he only defends. He is experienced in dealing with the unique complications of military life and service offences. He is regularly instructed by clients from all arms of the military and prides himself on his client care.
He is experienced at advising young and vulnerable defendants and has assisted in training for Registered Intermediaries.
Read More
---
Ongoing cases
R v M and others (Operation Scarf) (Stafford CC) – junior counsel (led by Steven Perian QC) in the second retrial of a long-running multi-defendant slavery case involving a considerable disclosure exercise and complex third-party disclosure.
R v M and others (Operation Sega) (Snaresbrook CC) – junior counsel (led by Matthew Farmer) in a series of linked prosecutions involving the disruption of multiple drug-dealing networks in East London, and associated firearms offences. A total of 129 defendants were charged across six linked police operations and 28 drugs lines. The case involves complex phone, intelligence and undercover evidence as well as Encrochat material.
R v C and others (Bristol CC) – junior counsel (led by Robin Sellers) in an Encrochat / Operation Venetic linked prosecution of an Organised Crime Network operating in the West Country.
R v A and others (Southwark CC) – junior counsel (led by Rebecca Austin) in the prosecution of linked offences involving the activities of an organised crime group in London and Bournemouth, involving Encrochat material.
Recent notable prosecution cases
R v B (Wolverhampton CC) – successful prosecution of a man for wounding with intent, for slashing a woman's face on Christmas Eve.  More details can be seen here: https://metro.co.uk/2020/03/01/woman-permanently-scarred-thug-slashed-face-defending-friend-12327818/
R v H and others (Wolverhampton CC) – Led junior (led by Matthew Farmer) in the successful prosecution of a multi-handed conspiracy to produce and supply cannabis.
R v G and others (Operation Marauder) (Bristol CC) – Led junior (led by Simon Foster) in the prosecution of a five-strong conspiracy to supply cocaine; a case involving the transportation of cocaine from London to the Swindon area involving extensive police surveillance, disclosure and PII issues, and telecoms analysis.
R v M and others (Operation Fieldhouse) (Kingston CC) – Led junior (led by Paul Fairley) in a case involving the prosecution of 13 members of a criminal gang which engaged in a year-long spree of robbery, burglary and theft. The defendants relied on mopeds with obscured number plates for transport in London and committed offences including breaking into an armed protection officer's car; robbing individuals on the street; ram-raiding high-value stores and stealing BBC video cameras from bridges across the Thames. The case involved complex cell-site analysis. 12 of the 13 defendants were convicted. More details can be seen here

: 

https://www.bbc.co.uk/news/uk-england-london-48256040
R v D and others (Operation Daraga) (Bournemouth CC) – Led junior (led by Barry McElduff) in the successful prosecution of 8 individuals running a large-scale 'County Lines' drug gang involving the transport of large quantities of cocaine and heroin from Liverpool to local operations in the Devon and Dorset areas, and subsequent onward distribution. The case involved complex disclosure issues surrounding undercover intelligence work, and close liaison with specialist police units.
R v A (Reading CC) – Led junior (led by Barry McElduff) in a serious historic rape allegation involving substantial and complex historical disclosure issues.
R v S (Central Criminal Court) – Successful prosecution of the 'driver' in a multi-handed conspiracy to steal money from parking meters throughout Kensington and Chelsea.
 Recent notable defence cases
R v L (Bristol CC) – Led junior (led by Marion Smullen) in the defence of a client accused of being a member of a paedophile ring. The offences concerned a 9-month-old baby whose godfather, whilst ostensibly looking after the child, was conducting abuse and organising for others to attend his address and join in. L was accused of conspiring to seriously sexually abuse the child and taking part, with two others, in a rape on one occasion.
R v S (Birmingham CC) – Instructed to defend a woman accused of wounding with intent by stabbing her long-term partner through the torso and into the lung following an argument at Christmas.
R v T and others (Newport (IoW) CC) – Defending one of three defendants accused of an affray with weapons and racially aggravated assault; Kaj's client was the only individual acquitted of all charges.
R v B (Southwark CC) – Acquittal of a vulnerable homeless man charged with exposure in Trafalgar Square where two police officers and a council worker asserted that they witnessed the offence.
R v MS (Portsmouth CC) – Client acquitted of a burglary at trial with fingerprint evidence placing him at the scene.
Courts Martial
R v T (Bulford Military Court Centre) – acquittal of a Royal Navy officer of sexual assault of a colleague; praised as "professional, supportive and responsive throughout".
R v P (Catterick Military Court Centre) – acquittal of a Royal Air Force airman for battery involving a "play-fight" with another service person whilst intoxicated.
R v D (Bulford Military Court Centre) – acquittal of a serving Royal Navy junior rate of sexual assault of a colleague whilst deployed abroad.
R v E (Bulford Military Court Centre) – acquittal of an ex-Army soldier accused of sexually assaulting and penetrating a colleague after a night out in the United Kingdom.
R v B (Bulford Military Court Centre) – acquittal of a senior Royal Naval Police NCO accused of misconduct in a public office and negligently performing a duty. It was alleged by the prosecution that the client had failed to report a rape allegation and actively dissuaded and prevented the complainant from making the allegation officially on multiple occasions over a period of two years. The board acquitted Kaj's lay client within fifteen minutes of retiring.
R v N (Bulford Military Court Centre) – acquittal of a serving Naval Senior Rate accused of assaulting a subordinate on board whilst alongside in Bahrain.
R v B (Colchester Court Martial Centre) – Led by Sally Howes QC in the defence of a senior British Army Brigadier accused of negligently performing a duty in relation to claiming school fees whilst serving abroad.
Other
Operation Resolve – instructed as one of a number of junior counsel tasked with reviewing material in preparation for the trials relating to the Hillsborough disaster, involving the analysis of statements, exhibits and reports gathered over a thirty-year period and necessitating application of both the current disclosure test and the pre-CPIA regime.
Operation Rhum – privately instructed independent counsel in a review of complex electronic evidence for legally privileged material during an ongoing HMRC investigation.
Education
LLB – University of York (2013)
BPTC – BPP Law School (2014)
Inn
Lincoln's (Eastham Scholar, 2015)
Click here for my Personal Privacy Statement