Kaj Scarsbrook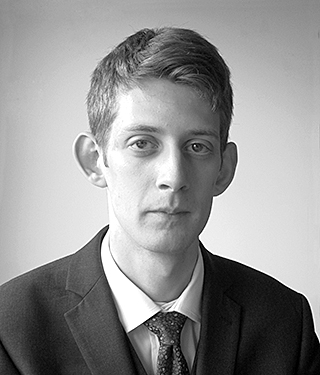 Practice areas
Crime, Immigration
Year of call: 2014
---
Kaj joined Chambers as a tenant in September 2016 upon successful completion of his pupillage under the supervision of Matthew Farmer and Beresford Kennedy. He has a varied practice and is regularly instructed in London and on the Western Circuit.
Prior to joining chambers, Kaj worked as a general legal editor at Sweet & Maxwell. His work included editing the 2015 edition of the criminal practitioner text, Archbold. Further editorial responsibilities included Criminal Law Week, Archbold Review, and Wilkinson's Road Traffic Offences.
In 2013 Kaj received a Reserve Commission from the Royal Military Academy Sandhurst. He has since served as a platoon commander in the London Scottish (London Regiment). This has given him an inside perspective in matters involving clients from the Armed Forces.
Read More
Crime
Kaj is a Grade 1 Prosecutor and is regularly instructed by the CPS as trial counsel in the Magistrates' Court, and to prosecute appeals against conviction and sentence in the Crown Court.
Kaj has a flourishing defence practice. His instructions during his second six have enabled him to handle complex legal and evidential matters whilst maintaining sensitivity and compassion for the needs and concerns of his clients. Kaj has experience appearing in the Youth Court and advising young defendants.
---
Recent Prosecution cases
Portsmouth City Council v. W. (2016) – Privately instructed by the council to prosecute an appeal against conviction relating to landlord property licencing offences. The appeal was dismissed.
R. v. A. (2016) – Successfully prosecuted an appeal against conviction in a drink driving matter involving complex expert argument relating to the functioning of evidential breath machines.
R. v. K. (2016) – Successfully prosecuted a contested Proceeds of Crime Act hearing relating to the proceeds of fraudulently claiming lower mileage on second hand vehicles.
Recent Defence cases
R. v. Q. (2016) – Defended a youth charged with 3 common assaults on a joint enterprise basis. Secured an acquittal after legal argument on the (at the time) new law.
R. v. T. (2016) – Defended a client in Portsmouth charged with failing to provide when suspected of driving a vehicle; argued for the charge to be amended to 'in charge' and subsequently avoided a disqualification.
R. v. E.-S. (2016) – Secured an acquittal for a client charged with theft from a shop where CCTV formed a large part of the evidence.
Immigration
Kaj is instructed on a regular basis by the Home Office to resist appeals against immigration decisions in the First Tier Immigration and Asylum Tribunal. He has also been instructed on behalf of appellants, including in relation to judicial review in the Upper Tribunal.
Education
LLB – University of York (2013)
BPTC – BPP Law School (2014)
Inn