Suki Dhadda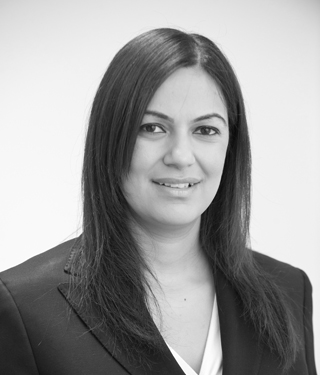 Practice areas
Crime, Civil,
Year of call: 2004
---
Suki practices predominantly in crime but has a wealth of experience in the areas of civil and family. She is a methodical, confident and persuasive advocate who prioritises preparation. Her versatility and attention to detail make her a popular choice amongst instructing solicitors.
Read More
Crime
Suki is a Grade 3 CPS Rape Approved Prosecutor and has vast experience prosecuting and defending in cases involving allegations of rape and other serious sexual offences including historic rapes, offences involving young children, exposure cases and the making, possessing and distribution of indecent images. As well as prosecuting such cases in Court, Suki has also advised on such cases at the pre-charge stage.
Her practice covers the full spectrum of offences including matters involving serious violence, drug trafficking and importation, firearms, armed robberies and serious public order offences. She is also experienced in dealing with offences of a fraudulent nature and was recently instructed to defend in a multi-million pound money laundering case. Suki also deals with the Proceeds of Crime Act including forfeiture, confiscation and restraint applications.
Recent cases include:
R v B – Prosecuting a father alleged to have raped his daughter on numerous occasions between the ages of 5 -10
R v L & A – Prosecuted two defendants who robbed a youth at knife point
Rv T-K – Youth Court prosecution of a young defendant, aged 14, alleged to have raped a 13 year old complainant
R v A & others – Prosecution of five defendants involved in a serious public order offence on New Year's Eve involving the use of a bottle and a blade. Suki was commended by the British Transport Police for her approach and performance in prosecuting this case
R v S & others – Instructed to defend, as a led junior, a multi-million pound money laundering case
R v P – Instructed, at pre-charge stage through to conviction, on behalf of Portsmouth City Council to prosecute in a complex fraud which involved the manufacture and distribution of replica sports memorabilia
R v EC – Defending in a case where the defendant was accused of making a false allegation of rape and a joint enterprise section 18 against a very vulnerable complainant
R v GE – Successful submission of no case to answer for a defendant in relation to a charge of burglary that was said to have occurred during the Tottenham riots
R v AP – Defended in a case where the defendant was charged with sexual offences and false imprisonment, part of which included urinating over the complainant
Regulatory
Suki has a wealth of experience of both prosecuting and defending cases brought under the Consumer Protection from Unfair Trading Regulations 2008. She is regularly instructed by Local Authorities having conduct of cases from the preliminary advisory stages through to undertaking trials in the Crown Court. Suki is also instructed to prosecute and defend in cases brought by Local Authorities for breaches of prohibition orders under the Housing Act 2004 and breaches of enforcement notices under the Town and Country Planning Act 1990.
Civil
Suki has specific experience of insolvency matters; undertaking both advisory and advocacy work in all aspects of corporate insolvency and individual bankruptcy.
Suki has trial and advisory experience in contractual and company disputes, landlord and tenant, property disputes, personal injury and debt recovery.
---
Family
Suki is experienced in private and public law children work as well as matrimonial matters and cohabitation disputes.
In Public Law matters, Suki acts for both parents and children and undertakes cases of non-accidental injury, neglect and those where serious sexual allegations have been made.
Suki is regularly instructed by parents in child arrangements orders, special guardianship applications, permission to remove a child from the jurisdiction and the full range of prohibited steps and specific issue orders.
In family finance Suki deals with factually complex proceedings for financial remedies (Matrimonial Causes Act 1973); disputes between cohabitants concerning financial provision of children (Schedule 1 Children Act 1989) and applications under the Inheritance Act (Provision for Family and Dependants Act 1975).
Suki accepts direct instructions from individuals and companies in a wide variety of matters.
Education
LLB University of Birmingham
Inn
Lincoln's Inn (Sir Thomas More Award)
Languages