Suki Dhadda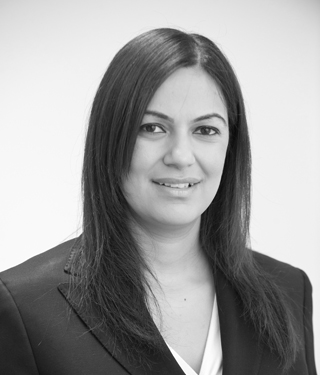 Practice area
Crime
Year of call: 2004
---
Suki is a specialist criminal practitioner. She prosecutes and defends in cases of a serious and complex nature with particular expertise in cases involving serious sexual offences. Suki is a Grade 4 and Rape Approved Prosecutor for the Crown Prosecution Service.
Suki is a methodical, persuasive and fearless advocate who is meticulous in the preparation of her cases. Her sound judgement and attention to detail make her a much desired advocate.
Read More
Crime
Suki is vastly experienced in cases involving allegations of rape and other serious sexual offences, including offences involving young children, stranger rapes, date rapes, historic rapes and familial rapes. Suki is well acquainted in dealing with cases involving young and/or vulnerable complainants and is regularly involved in matters where intermediaries are used. Suki has in the past year been instructed as junior counsel for the Crown in three large scale sex exploitation cases involving a large number of defendants and an extensive number of sexual offences.
Suki's practice also covers the full spectrum of criminal offences including murder, serious violence, firearms, armed robberies, aggravated burglaries, drugs, fraud, causing death by dangerous driving and serious public order offences.
Suki is frequently instructed by both defence and prosecution in road traffic matters, including death by dangerous driving, causing serious injury by dangerous driving and other road traffic offences. She regularly represents defendants who are affected by drink or drugs and is well known for her skills in presenting and challenging expert evidence, dealing with technical defences.
Notable cases include:
R v PR (Junior counsel for the Crown) – This case involved the prosecution of a male who caused the death of a three and half month old baby. The defendant was convicted of unlawful act manslaughter and inflicted fatal injuries upon the baby who died five days later of a severe head injury. During the assault, the baby sustained multiple injuries and clinical and pathological opinion concluded that there were three elements to the mechanism of the unlawful act. They were compression of the ribcage by gripping and squeezing which caused rib fractures, movement trauma which caused bilateral, thin-layered subdural haemorrhaging around the brain, spinal subdural haemorrhage and spinal nerve root axonal injury and severe blunt force impact which caused four separate sites of fracture to the right parietal skull bone. The case involved a wealth of evidence, including expert evidence and required a great understanding of both clinical and pathological evidence.
R v MM – The prosecution of a male who, with others, was alleged to have broken into two properties in the early hours of the morning, threatened persons present with a knife and attacked one of the residents. The case concerned an in-depth consideration of blood staining, blood pattern analysis and the secondary transfer (of blood); it involved calling and cross-examining experts in this field.
R v PJ & others (Junior counsel for the Crown) – This case involved the prosecution of three people, two men and one women, for the sexual abuse and prostitution of teenage girls over a period of twenty-two years. There were six vulnerable women who had been targeted by the defendants in this case against whom a range of offences had been committed; these ranged from being forced into prostitution, raped, drugged, kidnapped, sexually assaulted and physically assaulted. The defendants were successfully prosecuted and lengthy custodial sentences were imposed.
R v SD & others (Junior counsel for the Crown) – The prosecution of seven defendants who were alleged to have groomed, raped and sexually exploited two young vulnerable female complainants. Both complainants were assisted by an intermediary during the trial. The case was a long running case which involved a large number of complex legal arguments including bad character, hearsay, identification, abuse of process and consent. There were also numerous issues involving disclosure and legal argument in relation to the admissibility of evidence.
R v LC & others (Junior counsel for the Crown) – The prosecution of eleven defendants who were alleged to have sexually assaulted and raped two young vulnerable female complainants. The case was voluminous and required close scrutiny of the elements of sexual offences against children. The case also required research into the meaning of consent, in particular the meaning of 'true' consent and 'vitiated' consent.
R v EA – The prosecution of a male who had targeted a 12-year-old female, sexually assaulted her and then caused her to engage in sexual activity with him. The case involved dealing with a young complainant and a young defence witness.
R v D-Y – The prosecution of a female defendant who was alleged to have held the complainant hostage in his own home for three days, tortured him, stolen from him and seriously sexually assaulted him with a hammer.
R v TT – Prosecution of a husband against his wife for multiple offences of anal penetration with an anal plug. There were a number of legal arguments on admissibility of bad character evidence and the extent to which s.41 applied in circumstances where there were 'unusual' sexual relations enjoyed between the parties.
R v PR – Proseuction involving a number of allegations of historical sexual abuse by the defendant against his sister (when she was aged between 10-15) and allegations of sexual assault against his daughter (when she was aged between 9-10). This case involved extensive consideration of third party material.
R v A, O & W – Prosecution of three defendants of good character who allegedly took turns in raping the complainant who was said to have been very intoxicated at the time. This case involved extensive expert evidence concerning toxicology.
R v B – Prosecution of a father alleged to have raped his daughter on numerous occasions between the ages of 5-10.
R v TB – Prosecution involving multiple rapes of a complainant in a graveyard.
R v JG – Prosecution of a defendant who serially groomed young teen girls, arranged to meet them and then either raped or sexually assaulted them.
R v KW – Prosecution of a 15-year-old boy who vaginally and anally penetrated a 7-year-old girl at an after school club.
R v T-K – Youth Court prosecution of a young defendant, aged 14, alleged to have raped a 13-year-old child.
R v AP – Defended in a case where the defendant was charged with the false imprisonment of his partner which included urinating over her, falsely imprisoning her and committing numerous serious sexual offences against her.
R v EC – defended in a case where the defendant  was accused of making a false allegation of rape in order to 'cover up' and an attack that left a very vulnerable complainant with life changing injuries.
R v TL – Prosecution of a defendant charged with stabbing her partner's ex-partner with a kitchen knife causing serious injury.
R v L & S – Prosecution of two young defendants who robbed a youth at knife point.
R v A & others – Successful prosecution of five defendants involved in a serious public order offence of New Year's Eve involving the use of a bottle and a blade. Suki was commended by the British Transport Police for her approach and performance in prosecuting this case.
R v KL & JC – Prosecution of a large scale drugs importation of Call B drugs from Jamaica. This case involved the presentation of extensive telephone evidence to the jury.
R v S & others – Instructed to defend, as a led junior in a multi-million pound money laundering case.
R v P – Instructed, at pre-charge stage through to conviction, on behalf on Portsmouth City Council to prosecute in a complex fraud which involved the manufacture and distribution of replica sports memorabilia.
R v GE – Successful submission of no case to answer for a defendant in relation to a charge of burglary that was said to have occurred during the Tottenham riots.
Regulatory
Additionally Suki regularly prosecutes and defends cases brought under the Consumer Protection from Unfair Trading Regulations 2008. She is instructed by Local Authorities having conduct of cases from the preliminary advisory stages through to undertaking trials in the Crown Court. Suki is also instructed in cases brought by Local Authorities for breaches of prohibition orders under the Housing Act 2004 and breaches of enforcement notices under the Town and Country Planning Act 1990.
Education
LLB University of Birmingham
Inn
Scholarships
Languages
Click here for my Personal Privacy Statement