Suki Dhadda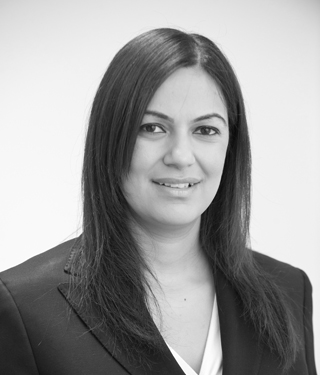 Practice area
Crime
Year of call: 2004
---
Suki is a specialist criminal practitioner, instructed by both defence and prosecution, in cases of a serious and complex nature. Suki is a Grade 3 Rape Approved Prosecutor for the Crown Prosecution Service.
Suki is a methodical, persuasive and fearless advocate who is meticulous in the preparation of her cases. Her sound judgement and attention to detail make her a much desired advocate.
Read More
Crime
Suki is vastly experienced in cases involving allegations of rape and other serious sexual offences, including offences involving young children, stranger rapes, date rapes, historic rapes and familial rapes. Suki is well acquainted in dealing with cases involving young and/or vulnerable complainants and is regularly involved in matters where intermediaries are used. Suki has recently been instructed in a large child sex exploitation case involving a number of defendants and an extensive number of sexual offences.
Additionally, Suki's practice covers the full spectrum of criminal offences including serious violence, firearms, armed robberies, drugs, fraud, causing death by dangerous driving and serious public order offences.
Notable cases include:
R v D-Y – The prosecution of a female defendant who was alleged to have held the complainant hostage in his own home for three days, tortured him, stolen from him and seriously sexually assaulted him with a hammer
R v TT – Prosecution of a husband against his wife for multiple offences of anal penetration with an anal plug. There were a number of legal arguments on admissibility of bad character evidence and the extent to which s.41 applied in circumstances where there were 'unusual' sexual relations between the parties
R v PR – Prosecution involving a number of allegations of historic sexual abuse by the defendant against his sister (when she was aged between 10-15) and allegations of sexual assault against his daughter (when she was aged 9-10). This case involved a number of issues of disclosure
R v A, O & W – Prosecution of three defendants of good character who allegedly took turns in raping the complainant who was said to have been very intoxicated at the time. This case involved extensive expert evidence concerning toxicology
R v B – Prosecution of a father alleged to have raped his daughter on numerous occasions between the ages of 5 -10
R v TB – Prosecution involving multiple rapes of a complainant in a graveyard
R v JG – Prosecution of a defendant who serially groomed young teen girls, arranged to meet them and then either raped them or sexually assaulted them
R v KW – Prosecution of a 15-year-old boy who vaginally and anally penetrated a 7-year-old girl at an after school club
R v T-K – Youth Court prosecution of a young defendant, aged 14, alleged to have raped a 13 year old child
R v AP – Defended in a case where the defendant was charged with the false imprisonment of his partner which included urinating over her and committing serious sexual offences against her
R v EC – Defended in a case where the defendant was accused of making a false allegation of rape in order to 'cover up' an attack that left a very vulnerable complainant with life changing injuries
R v TL – Prosecution of a defendant charged with stabbing her partner's ex-partner with a kitchen knife causing serious injury
R v A & others – successful prosecution of five defendants involved in a serious public order offence on New Year's Eve involving the use of a bottle and a blade. Suki was commended by the British Transport Police for her approach and performance in prosecuting this case
R v KL & JC – Prosecution of a large scale drugs importation of Class B drugs from Jamaica
R v S & others – Instructed to defend, as a led junior, in a multi-million pound money laundering case
R v P – Instructed, at pre-charge stage through to conviction, on behalf of Portsmouth City Council to prosecute in a complex fraud which involved the manufacture and distribution of replica sports memorabilia
R v GE – Successful submission of no case to answer for a defendant in relation to a charge of burglary that was said to have occurred during the Tottenham riots
Regulatory
Suki regularly prosecutes and defends cases brought under the Consumer Protection from Unfair Trading Regulations 2008. She is instructed by Local Authorities having conduct of cases from the preliminary advisory stages through to undertaking trials in the Crown Court. Suki is also instructed in cases brought by Local Authorities for breaches of prohibition orders under the Housing Act 2004 and breaches of enforcement notices under the Town and Country Planning Act 1990.
Education
LLB University of Birmingham
Inn
Lincoln's Inn (Sir Thomas More Scholar)
Languages