Suki Dhadda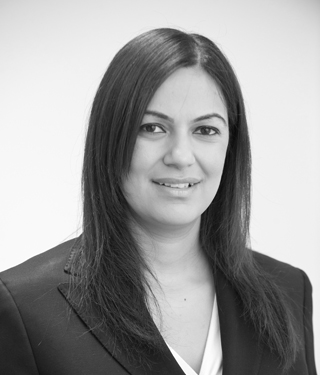 Practice area
Crime
Year of call: 2004
---
Suki is a specialist criminal practitioner and is only instructed on cases of the utmost gravity, including homicide, gang-related violence, armed robberies, causing death by dangerous driving, serious sexual offences and non-accidental injuries to infants
She is renowned for being a fearless and persuasive advocate with an enviable eye for detail.  Her meticulous case preparation and extensive knowledge of the most complex cases make Suki much sought after, as both Leading and Junior Counsel.
Suki frequently works with young and vulnerable victims and cases involving intermediaries as well as those involving numerous expert witnesses and complicated, in-depth disclosure issues.
Suki is a Grade 4 and Rape Approved Prosecutor for the CPS.
Read More
Ongoing cases/current instructions include:
R v J & others- (Led Junior)- Murder. Successfully secured convictions against the defendants for murder, possession of a firearm with intent to endanger life and assisting an offender. This was a complicated matter which involved the presentation of extensive CCTV, cell site and phone evidence.
R v F – (Junior alone) Attempted murder. The defendant, a passenger in a moving vehicle, took hold of the steering wheel of a car driven by his mother and forcefully caused it to be driven off the side of a verge on an A road.
R v P & others (Led Junior) Prosecution of the parents and grandmother of a 7-week old infant who sustained a total of 18 fractures to her ribs, arms and legs. The fractures were of varying ages and varying mechanisms.
R v A & others -(Led Junior)- Seventeen defendants prosecuted for over 120 offences of Creeper Style burglaries across the home counties.
R v S & others (Leading Junior)- A multi-handed case in which the defendants were found to be transporting guns.
R v K (Junior alone) Prosecution of a male for attempted S.18; armed with a knife the defendant charged at soldiers outside Whitehall.
R v T&D (Led Junior) Prosecution of parents pursuant to S.5 of the Domestic Violence, Crime and Victims Act 2004. A 15-week-old baby was found to have sustained nine fractures caused on two or three occasions.
R v H (Junior alone)- A father prosecuted for an offence of child cruelty arising out of a co-sleeping incident; the cause of death was found likely to be Asphyxiation by Overlay.
R v A & others- (Led Junior)- A number of joint operations concerning the supply of multiple kilograms of drugs across parts of East London. Three operations involving in excess of 35 defendants.
Notable cases:
R v M & P (Led Junior) Successful prosecution of both parents charged with Causing or Allowing a child to suffer Serious Harm. An 8 week-old infant sustained a transverse fracture of the mid shaft of her right femur, rib fractures and a metaphyseal fracture of her left distal tibia. The injury to child's femur was so severe it left her with life-long impediment.
R v B & J (Led Junior)- A case concerning injuries inflicted on an 8 week-old-infant; these included a brain injury, subdural haemorrhages and retinal haemorrhages. In total 11 expert witnesses were called including a Consultant Paediatric Opthalmic Surgeon, a Consultant Paediatric Neuroradiologist and a Consultant Paediatric Neurosurgeon.
R v PR (Led Junior) Prosecution of a male who caused the death of a three and half month-old baby. The defendant was convicted of unlawful act manslaughter and inflicted fatal injuries upon the baby who died five days later of a severe head injury. During the assault, the baby sustained multiple injuries and clinical and pathological opinion concluded that there were three elements to the mechanism of the unlawful act. They were compression of the ribcage by gripping and squeezing which caused rib fractures, movement trauma which caused bilateral, thin-layered subdural haemorrhaging around the brain, spinal subdural haemorrhage and spinal nerve root axonal injury and severe blunt force impact which caused four separate sites of fracture to the right parietal skull bone. The case involved a wealth of evidence, including expert evidence and required a great understanding of both clinical and pathological evidence.
R v TS (Junior alone) Complex prosecution involving the supply of Class A drugs over a significant period of time including sensitive issues of disclosure, police informants and covert surveillance.
R v MM (Junior alone) Prosecution of a male who, with others, broke into two properties in the early hours of the morning, threatened persons present with a knife and mounted a violent attack on one of the residents. In-depth consideration and exploration of blood staining, blood pattern analysis and the secondary transfer of blood through experts called by both the Prosecution and Defence.
R v PJ & others (Led Junior) Prosecution of two males and one woman for the sexual abuse and prostitution of teenage girls over a period of twenty-two years. There were six vulnerable women who had been targeted by the defendants in this case against whom a range of offences had been committed; these ranged from being forced into prostitution, raped, drugged, kidnapped, sexually assaulted and physically assaulted. The defendants were successfully prosecuted and lengthy custodial sentences were imposed.
R v SD & others (Led Junior) – Prosecution of seven defendants who were alleged to have groomed, raped and sexually exploited two young vulnerable female complainants. Both complainants were assisted by an intermediary during the trial. The case was a long running case which involved a large number of complex legal arguments including bad character, hearsay, identification, abuse of process and consent. There were also numerous issues involving disclosure and legal argument in relation to the admissibility of evidence.
R v LC & others (Led Junior) Prosecution of eleven defendants who were alleged to have sexually assaulted and raped two young vulnerable female complainants. The case was voluminous and required close scrutiny of the elements of sexual offences against children. The case also required research into the meaning of consent, in particular the meaning of 'true' consent and 'vitiated' consent.
R v A, O & W (Junior alone) Prosecution of three defendants who allegedly took it turns to rape an intoxicated complainant after luring her home from a night-club. This case involved extensive expert evidence centred around toxicology.
R v KW – Prosecution (Youth court) of a teenage boy who vaginally and anally penetrated a 7-year-old girl at an after-school club. The case required the careful and sensitive handling of young witnesses and a young defendant.
R v EC (Junior alone) Defence of a defendant accused of making a false allegation of rape in order to 'cover up' an attack that left a very vulnerable complainant with life changing injuries.
R v A & others (Junior alone) prosecution of five defendants involved in a serious public order offence on New Year's Eve at Tower Hill Railways station. Suki was commended by the British Transport Police for her presentation and prosecution of the case.
R v KL & JC – Successful prosecution of a large-scale drugs importation of Class B drugs from Jamaica. This case involved the presentation of extensive telephone and cell-site evidence.
R v S & others (Led Junior) Defending in a in a multi-million-pound money laundering case.Education
Education: LLB University of Birmingham
Scholarship: Sir Thomas More Scholar
Memberships:   Criminal Bar Association
Women in Criminal Law
Suki is a fluent Punjabi speaker.
Click here for my Personal Privacy Statement