Marion Smullen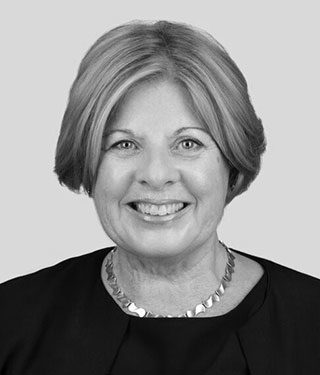 Practice area
Crime
Year of call: 1985
---
Marion is a hugely experienced and "highly regarded" defence advocate specialising in serious crime.
She is regularly instructed in matters involving murder and attempted murder, manslaughter, rape, serious violence, computer and internet offences, fraud and police discipline. Marion has been described is someone who also thinks "outside the box".
Read More
Experience
Marion has led in numerous murder cases and has helped develop the law in such areas as diminished responsibility. Marion thrives on legal arguments and has won numerous cases before reaching the trial stage. These include abuse of process arguments, a recent example is the successful opposition to the prosecutions application for an anonymous witness in a Trident case, which led to a not guilty verdict being given.
As well as the criminal cases listed below, Marion has represented many police officers in police discipline cases. She led in one case which was described at the time as the "Biggest investigation into police corruption in this country".
Marion's professionalism and depth of reputation is shown by the continuing high demand for her services from instructing solicitors and clients. Marion often represents highly vulnerable defendants whether because of age or mental health problems. She is regarded as a formidable opponent and is famous for providing total dedication to any case she receives instructions for.
Marion is a Grade 3 prosecutor and RASSO approved.
Recent Cases
R v – Maidstone Crown Court – A sensitive case allegedly involving a racially motivated killing of a young man. Marion led in this case which involved five defendants. There was a lot of media attention and complex forensic evidence. There was a successful half time submission which led to a not guilty verdict being entered.
R v – Blackfriars Crown Court & Court of Appeal – This was a long running series of trials and appeals in which Marion both led and was a junior. It involved a murder in Marble Arch and the issue was whether alcoholism could form a defence to murder. There were complex legal issues and substantial psychiatric matters to deal with. This case is one of the leading cases on alcoholism and Diminished Responsibility.
R v – Central Criminal Court – Marion led in this matter which was a high profile murder case. The defendant was mentally ill and he had stalked his ex-girlfriend and then stabbed her in the street. The case involved complex issues at the trial such as the bad character of the dead woman and the mental health of the defendant.
R v – Inner London Crown Court – This was a Trident case involving a shooting and a young black defendant. The prosecution applied for a witness anonymity order. Marion won the legal argument and the prosecution had to offer no evidence.
R v – Maidstone Crown Court – This was a sensitive case involving historic sexual and physical abuse within one family. There was a substantial volume of material to be considered before the trial and issues of law, such as the admissibility of ABE video evidence. The matter also required the sensitive cross examination of a very young child.
R v – Inner London Crown Court – This case involved a young defendant with learning difficulties charged with rape and false imprisonment of a schoolgirl. There were complex issues of law and there had to be highly skilful cross examination of the complainant.
R v – Southwark Crown Court – This was a highly sensitive case involving child pornography and facilitating a child sex offence. It generated enormous publicity because of defendants links to Jon Venables. This case involved extremely complex issues concerning computer evidence.
R v – Croydon Crown Court – This was a historic sexual abuse case. The allegations were 34 years old. Defendant was a man of good character. Complainant was defendant's nephew. Marion made a successful abuse of process argument and the case was stayed.
R v – Inner London Crown Court – This was a rape case against a young boy. Marion successfully represented this young man in circumstances where there was substantial press involvement in this case.
Marion is public access qualified.
Click here for my Personal Privacy Statement