Barry McElduff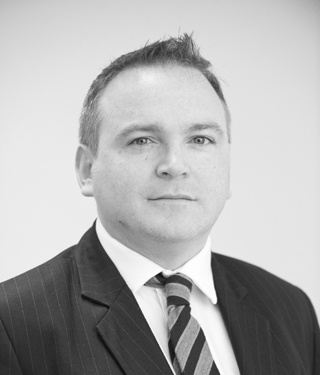 Practice area
Crime
Year of call: 2002
---
Barry McElduff is an experienced and constantly in-demand criminal practitioner. He prosecutes and defends in equal measure.
He is regularly instructed in the most challenging of cases.
He is both a Grade 4 and RASSO approved Prosecutor.
He has appeared as junior alone in cases involving allegations of attempted murder, knife point rape and serious gun crime.
He regularly prosecutes and defends in multi complainant cases of sexual offending, cases often involving young children.
Read More
Barry's defence practice encompasses the wide spectrum of criminal work, although it was in cases involving serious allegations of drugs supply or violence that he first made his mark, securing acquittals in a number of challenging cases.
In addition to his busy practice amongst the junior ranks, he is regularly instructed as Junior Counsel in cases involving allegations of murder or manslaughter.
He also has extensive experience in the handling of very vulnerable witnesses, as well as in the use of intermediaries to assist witnesses (including Defendants) in giving evidence.
Barry is also a Grade 4 Rape Approved Prosecutor on the CPS Approved List of Advocates for the Western and South Eastern Circuits and is regularly sought to prosecute in those sensitive cases.
He has delivered seminars and lectures to both Prosecution agencies and defence lawyers, most recently providing training to Wessex RASSO and Hampshire Police on charging and Indictments in complex cases of a sexual nature.
He has been regularly instructed to provide pre-charge advice to a number of different constabularies in RASSO areas in complex and challenging cases.
---
Recent Cases
2017 – ongoing
Operation Daraga (Bournemouth CC) – Prosecution of large scale class A drugs conspiracy involving 9 Defendants
R v A (Blackfriars CC) – Prosecuting allegations of knife point rape of an escort
R v SR (Southampton CC) – Defending allegations of gun attack on an escort
R v NR (Southwark CC) – Defending rape allegation where primary issue is capacity to consent
R v FHS (Birmingham CC) – Prosecution attempted murder allegation arising from a stabbing in central Birmingham after a dispute between 2 youths
R v G (Basildon CC) – Prosecution attempted murder and GBH
2016 Cases
Operation Teddy (Southampton CC, 2016) – successful defence of woman alleged to be part of a drugs gang running drugs in Southampton
Operation Kadenza (Southwark CC, 2016) – successful defence of man alleged to be the 'trusted lieutenant' to the main perpetrator of a multi-million pound 'phishing' fraud, the largest cyber-crime investigation conducted by the Metropolitan police
R v L (Reading CC, 2016) – Prosecution of a man alleged to have sexually assaulted a 96 year old woman in her own home. The complainant suffered from vascular dementia and had to be taken through her evidence (there was no pre-recorded interview) via a live link to her care home
R v H (Southwark CC, 2016) – Prosecution of a gunpoint robbery
R v L & others (Portsmouth 2016) – Prosecution of shoplifting gang (9 defendants) responsible for losses in excess of £100,000
R v S & others (Winchester CC, 2016) – Defence of lead Defendant in 6 handed aggravated burglary. Following extensive legal argument the Crown accepted pleas to substantially lesser charges
R v O (Oxford CC, 2016) – Prosecution of sexual assaults upon a 5 year old complainant
2015
Operation Autovia (Southampton, 2015) – Secured acquittal of Defendant charged with multi-million pounds conspiracy to defraud – large scale VAT missing trader fraud
Operation Wedding (Winchester CC, 2015) – Defending large scale drugs conspiracy
R v H (Winchester CC, 2015) – Successful defence of man charged with sexual offences against multiple complainants
R v N (Portsmouth CC, 2015) – Successful defence in attempted murder case
R v P & others (Southampton CC, 2015) – Led by Simon Foster, prosecution of 7 males alleged to have been responsible for multiple rapes upon a very vulnerable victim
R v D & others (Winchester CC, 2015) – Successful defence of alleged ringleader of a gunpoint aggravated burglary where the Crown's case relied entirely on what seemed at first blush compelling circumstantial evidence
2014
R v M (Portsmouth CC, 2014) – successful defence of alleged 'jilted lover revenge attack' of assault by penetration
R v W & others (Portsmouth CC, 2014) – Secured the acquittal of the alleged courier in a multi-million pound amphetamine conspiracy. The case involved a haul of amphetamine said by Hampshire police to be the largest of its kind
Other Notable Cases
R v Hopkins and Priest (April 2010 – May 2011). In April 2010 Barry was instructed as a led junior in a three month trial which involved allegations of neglect of mentally incapacitated adults who were resident in a care home. Barry represented the owner of the care home. It was believed to be the first prosecution of its kind nationally. The case involved complex medical, physical, social care and other technical evidence in relation to a total of sixteen residents who it was said had been neglected. As well as dealing with criminal offences under the Mental Capacity Act 2005, this case also dealt with Health and Safety and regulatory issues. The Defendants' convictions were subsequently quashed in Court of Appeal [2011] EWCA Crim 1513.
R v Dalby [2012] EWCA Crim 701 – status of harassment warnings in bad character application
Education
BA (Hons), Queens Belfast
Inn
Lincoln's Inn (Lord Brougham Scholar 2001, Hardwicke Scholar 2002)