Barry McElduff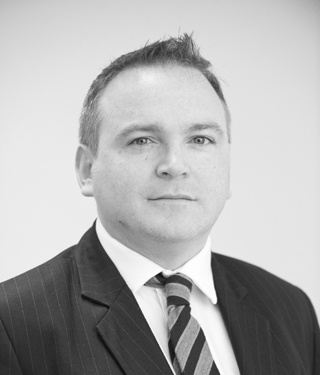 Practice area
Crime
Year of call: 2002
---
Barry McElduff is a leading practitioner in complex and serious cases with an emphasis on organised crime and sexual offences.
His portfolio of instructions is balanced between prosecution and defence work which enables Barry to bring a 360-degree analytical perspective to any case he is involved in.
He is a calm but persuasive advocate, regularly instructed in cases that require a sensitive and measured approach. His instruction is regularly sought in cases involving fatalities arising from road traffic collisions and cases involving complex or life changing injuries to children.
He is both a Grade 4 and RASSO approved Prosecutor.
In March 2018 he was appointed a Recorder of the Crown Court.
Read More
Barry's defence practice encompasses the wide spectrum of criminal work, although it was in cases involving serious allegations of drugs supply that he forged his reputation, securing acquittals in a number of complex and difficult cases.
He is, for a number of solicitors, the counsel of choice in cases involving the analysis, marshalling, interrogation and untangling of complex digital evidence.
He has also been instructed by the International Justice and Organised Crime Division to prosecute cyber-crime cases involving attacks on the Pentagon and major banking institutions.
He is regularly instructed as led junior counsel in cases involving allegations of murder or manslaughter.
Whilst first and foremost an advocate, he is regularly instructed to provide advisory work. He has been regularly instructed to provide pre-charge advice to a number of different constabularies in RASSO areas in complex and challenging cases. These are often cases involving evidence from abroad or with other knotty jurisdictional issues.
He has also provided training to various CPS RASSO areas and police forces in areas as varied as disclosure, s41 applications and the drafting of complex Indictments.
---
Recent Cases
Sample of recently concluded cases

Operation Holms (St Albans CC, November 2018 – January 2019) (leading Chris Hewertson) – Prosecuting serious 'tit for tat' violence on the streets of Bedford emanating from a disagreement between 2 warring drug gangs. The presentation of the case was made all the more difficult by the refusal of the victims to co-operate and fear preventing witnesses from making statements. Following an 8-week trial, 2 leading proponents of the 'Mile Road Gang' were sentenced to 15 years (extended by 3) and 14 years for nearly severing off the arm of a 16 year old member of the rival 'K Block' gang.
Operation Daraga (Bournemouth CC, Jan 2017 – September 2018) (leading Kaj Scarsbrook) – Operation Daraga was a South West Regional Crime Unit investigation into a Liverpool based Organised Crime Group, who were involved in the trafficking of large wholesale quantities of crack cocaine and heroin from Liverpool down to towns in Dorset and Somerset for onwards distribution to lower-level drug dealers and users. Over 3 trials Barry and Kaj secured the convictions of 8 conspirators at all levels. The convicted defendants represented all levels of the conspiracy from the overall leader to local "commanders" and, adding all the sentences together, the conspiracy received in excess of 50 years imprisonment.
R v Kelly (Birmingham CC, Autumn 2018) – Prosecution of a man for blinding a young American tourist in one eye following a disagreement about Donald Trump. Mr Kelly was sentenced to 11 years imprisonment.
Operation Dance (Winchester CC, Summer 2018) (led by W Mousley Q.C.) – D charged with murder and manslaughter. Defendant acquitted all counts. Mr Brewer was alleged to have stabbed his drug dealer in a 'robbery gone wrong'. The prosecution case was based on a series of superficially strong circumstances. However, the defence team were able to uncover the presence of others in the area who may have been responsible for the killing.
Operation Dogtooth (Winchester CC, Jan/Feb 2018) (leading Rob Harding) – D charged with involvement in long running drugs conspiracy. Trial lasted 8 weeks and involved extensive phone evidence. Defendant acquitted all counts.
R v A (Reading CC, March 2018) – Leading junior for the Prosecution (leading Kaj Scarsbrook) in high profile rape allegation.
Sample of 2017 cases
R v NR (Southwark CC, October 2017) – Successful defence rape allegation where primary issue was capacity to consent.
R v FHS  (Birmingham CC, March 2017) – Successful Prosecution attempted murder allegation arising from a stabbing in central Birmingham after a dispute between 2 youths.
R v T (Reading CC, April 2017) – Successful Prosecution of Defendant for causing serious harm to 3 month old child, case involved complex evidence regarding the dating of fractures.
R v Spence (Winchester CC, August 2017) – Successful defence of Defendant said to be the honey-trap in a case involving serious allegations of violence and kidnap.
R v Sean Caffrey (Birmingham CC , September 2017) – Prosecution of Defendant who committed cyber-attack against the Pentagon. A case in which HHJ Thomas Q.C. commended the clear way in which Mr McElduff opened a 'complex and difficult case'.
Sample of 2016 cases
Operation Teddy (Southampton CC, 2016) – Successful defence of woman alleged to be part of a drugs gang running drugs in Southampton.
Operation Kadenza (Southwark CC, 2016) – Successful defence of man alleged to be the 'trusted lieutenant' to the main perpetrator of a multi-million pound 'phishing' fraud, the largest cyber-crime investigation conducted by the Metropolitan police.
R v L (Reading CC, 2016) – Prosecution of a man alleged to have sexually assaulted a 96 year old woman in her own home. The complainant suffered from vascular dementia and had to be taken through evidence (there was no pre-recorded interview) via a live link to her care home.
R v H (Southwark CC, 2016) – Prosecution of a gunpoint robbery.
R v L & others (Portsmouth CC, 2016) – Prosecution of shoplifting gang (9 defendants) responsible for losses in excess of £100,000.
R v O (Oxford CC, 2016) – Prosecution of sexual assaults upon a 5 year old complainant.
2015
Operation Autovia (Southampton, 2015) – Secured acquittal of Defendant charged with multi-million pounds conspiracy to defraud – large scale VAT missing trader fraud.
Operation Wedding (Winchester CC, 2015) – Defending large scale drugs conspiracy.
R v H (Winchester CC, 2015) – Successful defence of man charged with sexual offences against multiple complainants.
R v N (Portsmouth CC, 2015) – Successful defence in attempted murder case.
R v P & others (Southampton CC, 2015) – Led by Simon Foster, prosecution of 7 males alleged to have been responsible for multiple rapes upon a very vulnerable victim
Other Notable Cases
R v W & others (Portsmouth CC, 2014) – Secured the acquittal of the alleged courier in a multi-million pound amphetamine conspiracy. The case involved a haul of amphetamine said by Hampshire police to be the largest of its kind.
R v Hopkins and Priest (April 2010 – May 2011). In April 2010 Barry was instructed as a led junior in a three month trial which involved allegations of neglect of mentally incapacitated adults who were resident in a care home. Barry represented the owner of the care home. It was believed to be the first prosecution of its kind nationally. The case involved complex medical, physical, social care and other technical evidence in relation to a total of sixteen residents who it was said had been neglected. As well as dealing with criminal offences under the Mental Capacity Act 2005, this case also dealt with Health and Safety and regulatory issues. The Defendants' convictions were subsequently quashed in Court of Appeal [2011] EWCA Crim 1513.
R v Dalby [2012] EWCA Crim 701 – status of harassment warnings in bad character application
Education
BA (Hons), Queens Belfast
Inn
Lincoln's Inn (Lord Brougham Scholar 2001, Hardwicke Scholar 2002)
Appointments
Recorder of the Crown Court, March 2018
Click here for my Personal Privacy Statement