Oliver Weetch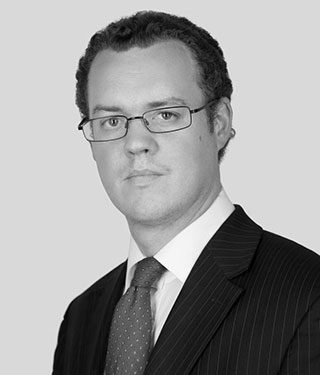 Practice area
Crime
Year of call: 2000
---
Oliver specialises in complex criminal work having acted as both leading counsel and as led junior in a number of high-profile cases and has a particular expertise in appeal cases.  He also conducts inquest and regulatory work.
Read More
Crime
Oliver both prosecutes and defends in serious and complex criminal cases. His defence practice encompasses acting as both leading counsel and led junior in a wide spectrum of serious cases involving terrorism, violence, drugs, fraud and sexual offences. Recent cases of note have involved defending a 14-year old female accused of murder, a mother accused of a baby shaking murder, as well as cases involving both the encouragement of terrorism by online postings and the attempted arson of a diplomatic vehicle outside the Iranian Embassy. His prosecution practice encompasses multi-handed prosecutions of organised criminal groups as well as cases where he has prosecuted cases defended by Queen's Counsel.
Oliver has considerable expertise in undertaking appellate review work examining whether fresh grounds of appeal may exist in respect of old convictions and sentences in which the client has either never appealed or received negative advice on appeal from his or her original representatives. Many of the cases he has reviewed have resulted in fresh grounds of appeal being identified and submitted to both the Court of Appeal and the Criminal Cases Review Commission, and have ultimately led to convictions being overturned and/or sentences being reduced. In total, Oliver has appeared in the Court of Appeal in more than 35 separate appeal cases.
Oliver is a CPS London Grade 3 Prosecutor & CPS Level 3 advocate.
Recent Criminal Cases of Note
• R v TK – Led junior in defence of 14 year old girl accused of murder.
• R v MM – Prosecution of five handed case of 'vamoose' burglaries / theft of high performance cars.
• R v SS – Prosecution of three handed case of sexual assault and false imprisonment of a transgender complainant.
• R v TC – Defence of client accused of sexual assault and home invasion robbery where the complainants were deaf.
• R v SP – Defence of client accused of placing an improvised explosive device in the exhaust pipe of a diplomatic vehicle outside the Iranian Embassy.
• R v CS – Led junior in high-profile baby shaking murder case.
• R v MH – Defence of client accused of encouraging others by posting messages on Facebook to commit acts of terrorism.
• R v RH – Defence of father accused of baby shaking.
• R v BM – Led defence junior in high-profile murder case involving robberies of high-value watches.
• R v RT – Led prosecution junior in four handed gang stabbing.
• R v DI – Leading defence counsel in a large-scale conspiracy case to traffic women for sexual exploitation both into the UK from abroad and inside the UK.
• R v SK – Led junior in successful defence of a multi-handed conspiracy to murder in which client was alleged to be one of three hit men hired to kill two drug kingpins.
Reported Criminal Cases 
R v Newton [2017] All ER (D) 11
R v Bryan [2015] All ER (D) 255
R v Cojan [2015] 2 Cr. App. R. 20; [2015] Crim. L.R. 376
R v Sugulle [2013] 2 Cr App R (S) 61 (389)
R v Riat & Others [2013] 1 Cr. App. R. 2; [2013]
R v Trott [2011] 175 J.P. 458
R v D [2009] 2 Cr. App. R. (S.) 74
R v Stannard & Others [2009] 2 Cr. App. R. (S.) 21, CA; [2009] Crim. L.R. 217
R v Rodney [2007] All ER (D) 154
Inquests
Oliver is instructed to appear at coroner inquests across the country, most often on behalf of families of the deceased but also on behalf of other interested parties.
Recent Inquests of Note
Case of H – Case involving the representation of a Doctor at a large scale inquest involving issues relating to the policy and procedure of the insertion of naso-gastric tubes during treatment of patients.
Case of NI – Case involving a High Court action brought to secure the body of the deceased to be released to a particular family member.
Case of EC – Inquest involving the representation of a family whose daughter had died after fainting during a mammogram procedure
Regulatory Work
Oliver has particular experience in cases involving the representation of individuals and companies prosecuted by Trading Standards and the Health and Safety Executive. Many of these cases are matters on which he has been instructed on a direct access basis.
Television and Radio Work
Oliver has acted as a legal adviser to variety of television programmes over the years as well as appearing on radio as an expert commentator on criminal legal matters.
Oliver is direct access qualified.
Click here for my Personal Privacy Statement