Yasin Din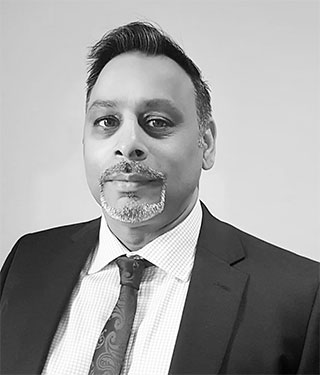 Practice areas
Immigration, Islamic Law, Human Rights, Crime
Year of call: 2004
---
Background
Yasin came to the Bar  after successful tenure as a Solicitor  Advocate where he had developed a nationwide practice, dealing with serious and complex criminal cases. His move to Immigration and Human Rights occurred in 2018 as result of his  personal experiences of  working in refugee camps and with charities over a number of years.
Yasin has 2 Master's  Degrees,  one in Islamic Law (Sharia Law)  and one in Judicial Review. He can advise not only on English Law but also Sharia law  in isolation or where there is an overlap between the two.
Yasin is an advisor to a major company in the UAE and he is often consulted on by Religious organisations and Charities.
Read More
Immigration
Yasin is instructed to appear in the Immigration Tribunals and has appeared before Immigration Panels  both in the First Tier and in the Upper Tribunal on a number of occasions.
Yasin is familiar with dealing with, 20 years Long Residency , 7-year applications relating to children. 10 years  Law Residency ; Refusal under para 322(5) – Tax rules; Adult Dependent Applications; Asylum; Deportation; Curtailment of leave; Unjustifiably harsh consequences under Ex 1.(b); Family Reunion; Frustrating the Immigration rules (para 320(11)); Appendix FM; Genuine & Subsisting Marriages; Minimum Income Requirements; Very Significant Obstacles (para 276ADE); Parental Responsibility (para 297); TOIEC Cases; Domestic Violence related cases; Jurisdictional issues;  EEA based cases; Bail applications as well as other forms of appeals.
Yasin also deals with unlawful detention claims which arise out of Immigration Detention.
Sharia Law
Yasin has Master's  Degree in Islamic Law and he has  studied the Sharia in the areas Islamic Commercial Law, Family Law and Human Rights etc.
Yasin can advise on Sharia based contractual agreements such as Musharakah, Mudarabah, Murabahah, Ijara, Salam and Istisna. He can advise on how to set such agreements up for those who wish to comply with religious obligations in the arena of commerce and business.
Yasin can advise on Islamic marriages (Nikahs) to assess if they are qualifying or non-qualifying in light of the Marriage Act 1949. He is able to advise those who are wanting to enter into Nikah only based marriages as what rights they have under the Sharia so that the marriage contract is drafted to contain these rights. He can also advise on the issues of Hadana, Mahr, Khula, Talaq, the role of a Wali etc when it comes to drafting of the Nikah as well advise on the rights post a separation. His thesis addressed a how a non-qualifying Nikah could give rise to similar rights as a qualifying Nikah under the Marriage Act 1949 without the need of having to change the law.
Judicial Review
Yasin has a Master's Degree in Judicial Review, this knowledge in this area gives him a greater understanding of the arena. He regularly drafts Judicial Review grounds, Pre-Action Protocol letters and conducts Judicial Review permission hearings.
Other Areas
Yasin has an extensive background in Crime as well as being trained in the areas of Commercial contracts, Conveyancing (commercial & residential) Probate & Family.
Yasin speaks English, Punjabi, Mirpuri and Urdu (basic).
Immigration Hearings.
Notable Case involvement
R v Calderdale MC, ex parte Donohue & Cutler (2001) Crim LR 141 – the disclosure of CCTV
R v Teesside Crown Court, ex parte TH & others
R v RC. Murder
R v AR & others. Murder

   

R v RHA & others. Murder
R v HA & others. Murder
R v LC & another, Murder of a child
R v SB Murder
R v ZA Murder
R v TL & others. Attempted Murder of an alleged paedophile,
R v BM. Soldier charged with multiple counts of Attempted Murder
R v MK & others large scale conspiracy to supply class A involving 16 defendants
R v JH International drugs conspiracy spanning India, Greece, Germany & Philippines

 

involving 16 defendants
R v NN & others. large scale conspiracy to supply class A drugs involving 17 defendants
R v JM & others.

 

large-scale conspiracy to supply of Class A drugs
R v SH & SA & others.

 

2-year undercover drugs operation
R v TH & others Large scale drugs conspiracy involving class A drugs
R v MB. Terrorism -First prosecution under the glorification provisions
R v AM Theft of medicines which were sent to Syria.
R v CB & others. cash for crash scam involving 44 defendants.
R v DK & others. Kidnapping of a drugs courier by a drugs gang.
R v MA & others. kidnap & torture

 

involving a drugs gang.
R v MR & others -Exploitation of vulnerable girls
R v RN & others Exploitation of young girls.
R v DS non-disclosure of HIV status pre consensual sex & mitigation.
R v MR – large scale mortgage fraud
R v SA & others – Conspiracy to supply class A drugs.
R v TM & others. large scale drugs conspiracy to supply Class A drugs.
R v SA & others. Conspiracy to supply large quantities of class B drug. 
R v SM & another Conspiracy to supply class A drugs
Education
LL.B(Hons) Business Law (2:1)
LL.M Judicial Review
MA Islamic Law (Distinction)

Law Society's Level 2 Immigration Accreditation
Inn
Inner Temple
Yasin is Direct Access Qualified & authorised to conduct litigation.