Richard Hutchings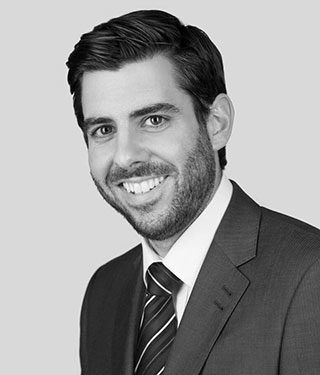 Practice area
Crime
Year of call: 2001
---
Practising in criminal law, Richard has been a tenant in chambers since completing his pupillage in 2003. A former Sunley Scholar of Lincoln's Inn, he practises regularly in the Crown Court in London and the South-East, with an emphasis on defence work.
Read More
Experience
Richard has defended (as sole counsel) in trials for offences such as conspiracy to commit armed robbery; drug importation; and rape. A friendly and approachable barrister, he is also an efficient junior, having been led in fraud, serious violence, and murder cases.
Aside from his Crown Court work, Richard has extensive experience of the court martial, having successfully defended Armed Forces personnel in trials in England, Germany and Cyprus.
Richard's appellate practice has extended to the House of Lords (now the Supreme Court). In 2007 he was led in the reported case of R – v – Abdroikov, Green and Williamson, which established the limitations of police officers and Crown Prosecution Service lawyers serving on juries. In that case he appeared in every hearing from the Crown Court up for the appellant Richard Green, whose conviction was ultimately quashed by the House of Lords.
In addition to his court work, Richard is a Lincoln's Inn accredited advocacy trainer; and he has lectured on court martial practice and procedure.
Richard is a Grade 2 prosecutor.
In 2013 Richard was appointed by Lord Justice Pitchford (President of the Council of the Inns of Court) to sit on Bar disciplinary tribunal panels. The appointment was for an initial 3-year term of office, and was renewed for a further 3 years in 2016.
Notable Cases
R v S – Court Martial case in Germany, where the defendant was acquitted of attempted rape.
R v B – Prosecuting a 15-year-old who was charged with (and convicted of) aggravated burglary.
R v K – Defence counsel in a rape and sexual assault case, involving extensive cross-examination of the prosecution's expert DNA witness. The defendant was acquitted of all charges.
R v S – Defending the getaway driver of an armed robbery who, it was alleged, drove his car at and intentionally hit a pursuing 'Flying Squad' officer front-on. The defendant had admitted his part in the robbery, but denied the attempted GBH of the officer. The case involved the cross-examination of eight eye-witness Flying Squad officers. The defendant was acquitted of the charge of attempted GBH (convicted of a lesser charge).
R v I – £650,000 VAT fraud trial at the Old Bailey.
R v G – Murder trial at the Old Bailey in which Richard's client was charged with an associated offence of perverting the course of justice. The case developed into a 'cut-throat' defence with a co-defendant who was represented by Queen's Counsel.
R v M – A case under the Firearms Act 1968 in which the defendant had admitted possession of a disguised firearm at the scene, and again later in his police interview. He was acquitted by the jury of being in possession of the disguised firearm.
Memberships
Criminal Bar Association.
Richard is public access qualified.
Click here for my Personal Privacy Statement