Charlene Richer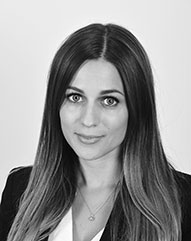 Practice areas
Crime, Civil
Year of call: 2012
---
Charlene joined Chambers in October 2017 following successful completion of her pupillage under the supervision of Barry McElduff and Adrian Fleming. She receives regular instructions for cases in London and on the Western Circuit.
Read More
During pupillage Charlene had a particular focus on crime, but additionally gained experience in civil, family and immigration. Prior to commencing her time with Chambers, she gained considerable experience as an in-house advocate representing clients in a range of civil matters and as paralegal in a set of Chambers in Gray's Inn.
Crime
Charlene receives instructions to defend and prosecute, and has been a Grade 1 Prosecutor since May 2017. She is regularly instructed to conduct trials in the Magistrates' Court, as well as appearing in the Crown Court for a variety of hearings including appeals against conviction or sentence, bail applications, pre-trial preparation hearings and sentencing hearings. Charlene has received instructions on a wide range of offences including sexual offences, offences against the person, dishonesty, drugs and public disorder. During pupillage, Charlene assisted in several serious matters, including rape and sexual offences, child cruelty and drugs conspiracies.
Recent cases
R v K (2017) – Defending in a sentence for PWITS & being concerned in the supply of class A, an operation involving "cuckooing" where K had had played a significant role. The Court was persuaded to take an exceptional stance and depart from the guidelines, imposing a suspended sentence order.
R v K (2017) – Prosecuting "operation Puya" – conviction for PWITS and supply of class B in a £800,000 operation where K played a significant role.
R v C (2017) – Successful prosecution of s.4 PO involving 5 child witnesses.
Civil
Charlene regularly receives instructions for RTA and credit hire claims, and personal injury matters. She has previous experience in acting in possession actions against tenants, mortgagees and trespassers, as well as for disrepair claims and deposit protection disputes.  She has further experience in contractual disputes, bankruptcy and insolvency.
Immigration
Charlene is instructed on a regular basis to appear for the Secretary of State for the Home Office at the First Tier Immigration and Asylum Tribunal.
Education
Western Circuit Butterfield Scholarship (2016)
The College of Law – BPTC (2012)
King's College, London
Click here for my Personal Privacy Statement