Zubair Mughal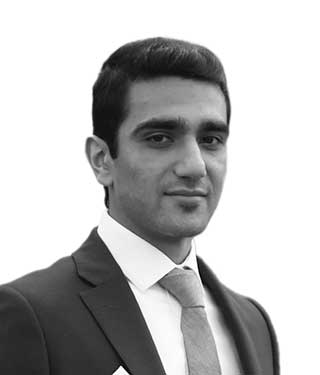 Practice areas
Civil, Family, Immigration
Year of call: 2016
---
Zubair Mughal is an immigration, family and civil barrister with a particular expertise in seeking and obtaining permission to appeal (to the Upper Tribunal, High Court and Court of Appeal).
Zubair was called to the Bar in 2016 and has since appeared in over 800 immigration, civil and family hearings, allowing him to gain substantial in-court experience.
Zubair previously worked for the Home Office as a presenting officer; where he was required to represent the Home Office at the First Tier Tribunal (IAC). This experience has given him the necessary insight to identify the key features of a case which make an immigration appeal/ claim successful.
Zubair has also gained substantial experience in the County Courts. He regularly represents clients in family and civil matters at all stages of proceedings.
Read More
Expertise
Immigration

Appeals/ applications

EEA
Asylum and human rights § Judicial review
Bail

Drafting

Permission to appeal to the Upper Tribunal and Court of Appeal
Applications for permission to apply for judicial review

Family

Private children cases

All fact-finding hearings
All final hearings
Applications for prohibited steps orders
Applications for non-molestation orders
Applications for contact with children

Matrimonial finance proceedings
Child abduction cases

Applications for wardship orders
Applications for return orders
Applications for passport orders

PermissiontoappealtotheHighCourtandCourtofAppeal

Civil

Small Claims, Fast Track and Multi Track claims
All ancillary applications in the county court and high court.
Personal injury claims
Personal injury infant settlement hearings
Personal injury Stage 3 disposal hearings
CICA appeals to the First Tier Tribunal
Housing disrepair claims
Landlord and tenant matters
Recommendations
"(…) He explained the issues succinctly and clearly and immediately identified the important point upon which the appeal was eventually allowed. His client had actually already been deported to Holland and had come back for the appeal. His client was immediately detained when he arrived back in the UK, so there were those added complications. He was extremely well prepared and made everyone feel at ease. (…)" (Judge)
"Your legal services to us are outstanding." (Solicitor)
"We instructed him on various occasions, and he has proven himself a fearless barrister." (Solicitor)
"I would recommend Zubair to every law firm for immigration matters due to his services and expert advice." (Solicitor)
"Thank you for the work done. The client was extremely happy with the unexpected positive outcome and we were impressed with the service provided. It was real value for money." (Solicitor)
Recent cases
R v Secretary of State for the Home Department (2020) – First Tier Tribunal – Representing an appellant at an EEA deportation appeal hearing. The appellant was sentenced to 18 months for assault occasioning GBH. As a result of this sentence, he was removed from the UK. Notwithstanding this, the Judge allowed the appeal in court.
N v Secretary of State for the Home Department (2020) – First Tier Tribunal – Representing an appellant at a human rights appeal hearing. The appellant entered the UK in 2007 on a visitor visa and did not seek to regularise her status in the UK until 2019. She had no family in the UK. Zubair successfully argued that the appellant would face very significant obstacles in reintegrating to her country of return. The appellant's appeal was therefore allowed.
Suliman, R (On the Application Of) v Secretary of State for the Home Department [2020] EWHC 326 – Acting for the Applicant in the High Court – Considering whether or not the Secretary of State was correct in concluding that the Applicant was excluded from the domestic violence concession policy outside of the Immigration Rules. – Claim allowed and the Respondent's decision quashed.
Public access
Zubair is qualified to accept instructions directly from the public. This means that members of the public can instruct him directly without going through a solicitor.
Outside interests
In his spare time, Zubair enjoys playing football. Having represented his local borough in the London Youth Games of 2012, he is also an avid cyclist.
Zubair also has a growing interest in history and Urdu poetry.