Tahir Khan QC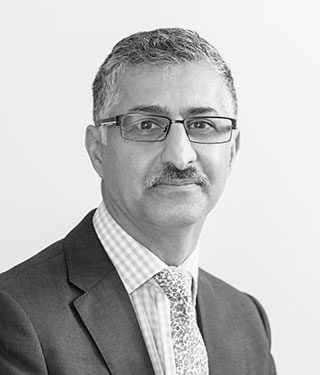 Practice area
Crime
Year of call: 1986
---
Tahir Khan QC is a senior criminal practitioner, having been called to the bar in 1986 and taken silk in the Lord Chancellor's list in 2011.
Read More
During his time in practice, Tahir has gained a vast amount of experience across a wide range of criminal case areas. He has developed a reputation for being an exceptional advocate and has been ranked consistently for the last five years in the Legal 500 directory of the most able lawyers in the country. Tahir is regularly instructed by prosecuting authorities (CPS, HMRC, Environment Agency) and defence solicitors' firms to do their most serious and complex cases.
Tahir's approach to his work has always been based on a determination to represent his clients to the highest professional standards. His professionalism, combined with his friendly and approachable manner, are qualities which his lay and professional clients repeatedly highlight. Tahir is held in high regard by his peers and the Judiciary for his integrity and reliability. It was the above qualities that resulted in Tahir's appointment as a Recorder in 2004. That achievement was followed in 2011 by Tahir's appointment as Queen's Counsel.
Tahir's main area of specialism is in serious crime, including serious and complex drugs prosecutions, terrorism cases, multi-million pound frauds and the most serious cases of violence, specifically gangland shootings, murder and manslaughter cases. He also specialises in Regulatory Crime. For many years he has prosecuted and defended environmental pollution offences and is on the Attorney General's 'A List' of Prosecutors specialising in complex regulatory work. Tahir's work in this field has included prosecuting and defending well known high-street names for breaches of Environmental and Fire Safety Regulations.
Extracts from Chambers & Partners UK:
"Possessed of a first-class brain", Tahir Khan QC was identified by one peer as "the epitome of the new breed of silk – he is a conscientious, hard-working barrister who can utilise technology and really take control of the facts and law of a case from a very early stage". "Khan's practice spans all serious crime, and he has recently worked on some high-value drugs importation and gang-related violence cases. Solicitors like him as he is very strong under pressure, and very measured and analytical in his approach".
Recent Cases:
R v CO 2019- Isleworth Crown Court- Tahir was instructed in this historic rape, sexual assault and child cruelty case where the defendant, a music producer was alleged to have abused his step daughters. The case was made more complex by the fact that the allegations were decades old.
R v SL 2019- Leeds Crown Court– Tahir prosecuted a woman in her late 60 who strangled to death her same sex partner following a long history of domestic abuse. The case was complicated by the fact that there were numerous psychiatric reports for the court to consider touching on loss of control, post traumatic stress disorder and depression.
R v ES 2019- Bradford Crown Court– Tahir defended at trial a 76 year old man who brutally murdered his 73 year old wife who had been suffering from Alzheimer's dementia. Issues of loss of control arose for consideration.
R v LH 2019- The Central Criminal Court- Tahir defended an 18 year old boy in a murder trial in which there were 8 other family members also charged with murder, wounding with intent and violent disorder. The trial lasted 12 weeks and Tahir's client was found not guilty of murder.
R v HS 2018- The Central Criminal Court– Tahir defended another 17 year old youth in one of a series of multiple defendant London stabbing trials.
R v AM 2018- St Albans Crown Court- Tahir represented a 17 year old youth in a four week gang related murder trial. The case had multiple cut-throat defences and issues of bad character.
R v DS 2018- Birmingham Crown Court– Tahir prosecuted a man in his 20s for the brutal murder of his own father. The defendant claimed he acted in self defence and sought to rely on the partial defence of loss of control, but was convicted and sentenced to life imprisonment.
R v KA (Cambridge Crown Court, 2018)
Tahir defended a young man in a murder trial in which the motivation for the killing was allegedly connected to a drugs turf war.
R v TL (Bradford Crown Court, 2018)
Tahir defended an Iraqi man who stabbed his wife 21 times in an attempted murder.
R v DB (Leeds Crown Court, 2018)
Tahir prosecuted this trial in which a man was charged with murder and grievous bodily harm with intent arising out of a burglary of a house where the occupant was growing cannabis plants. The householder was viciously attacked with a baseball bat and left for dead.
R v MZ (Bradford Crown Court, 2017)
Successfully prosecuted a man in a double murder trial which had complex extradition issues in it. It was the first successful extradition from Pakistan in a decade.
R v AH (Court of Appeal, 2017)
This was a sentence appeal in the Rotherham child grooming case which was before The Lord Chief Justice of England and Wales. It was a highly emotive and one in which the lower Court has passed a very long sentence. The Lord Chief Justice began his ruling on the sentence appeal with the following words, "We have received eloquent submissions from Mr. Khan QC…"
R v WT (Court of Appeal, 2017)
This was another sentence appeal in which Tahir argued successfully for a reduction in sentence in a death by dangerous driving and causing grievous bodily harm by dangerous driving case.
R v CM & MJ (Winchester Crown Court, 2017)
Tahir successfully prosecuted two men in a murder case in which defendants had attacked, robbed and killed an Albanian drug dealer.
R v YA and others (Leeds Crown Court, 2017)
Tahir defended a 28 year old woman in a six week murder trial which involved a brutal killing of a young women in the defendant's home and the disposal of the body by burning. During the trial, it was necessary for Tahir to cross-examine Dr. Daniel Du Plessis, one of the country's foremost forensic neuropathologists. The trial was made more challenging by the fact that the three defendant's co-accused engaged in a vicious cut-throat against her.
HSE v DDP Ltd (Leeds, 2017)
Tahir defended a highly successful construction company in a Health and Safety Executive prosecution following an incident in which someone suffered serious injury while working on a construction site. Over many years, Tahir prosecuted and defended complex regulatory cases, including Environment Agency and HMRC prosecutions. More recently in time, Tahir's expertise in this field was recognised when he was asked to advise an individual in a case arising from the Grenfell Tower fire.
R v A (Birmingham Crown Court, 2016)
Defended a forty four year old man at Birmingham Crown Court in a six week murder trial that involved multi-cut throat defences. The case was complicated further by the use of intercept material. The defendant, his ex-wife and their fifteen year old son had all planned and then executed the killing of the ex-wife's lover by strangulation. The trial attracted a good deal of press attention because of the nature of the case and was widely reported in the media.
R v B (Leeds Crown Court, 2016)
Prosecuted a murder trial at Leeds Crown Court in which five men had burgled a house where the occupant was growing cannabis with a view to stealing his cannabis stash. One of the burglars confronted the householder and beat him to death with a baseball bat. The remaining defendants were all convicted of and sentenced for conspiracy to burgle.
R v S (2016)
Defended a twenty year old Polish man charged with the murder of a man in his own home. The allegation was that the defendant and his brother ambushed the victim while he was sleeping on a sofa, slit his throat and then beat him to death. The victim's body was disposed of in an isolated location and was not discovered for a year by which time, it had become skeletonized. Evidence was called from a forensic archaeologist, a Forensic anthropologist, two Forensic Pathologists and a Blood Distribution Expert.
Education
LLB (Hons), Liverpool Polytechnic
Inn
Other
Recorder (appointed 2004)
Member of  Criminal Bar Association
Languages: Punjabi and Urdu
Click here for my Personal Privacy Statement