Tahir Khan KC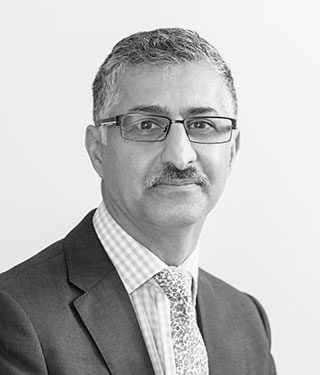 Practice areas
Crime, Family, Public Access
Year of call: 1986
---
Tahir Khan KC is a senior criminal practitioner, having been called to the bar in 1986 and taken silk in the Lord Chancellor's list in 2011.
Read More
During  his 30 years in practice, Tahir has accumulated a vast amount of experience across all areas of criminal law. He has developed a reputation for being an exceptional advocate which has been recognised by him consistently featuring in the Legal 500 directory of the most able lawyers in the country.
Tahir is regularly instructed by prosecuting authorities and in the past, he has been on the Attorney General's A list of Prosecutors specialising in serious and complex Regulatory Crime (HMRC and Environment Agency).Tahir's approach to his work has always been based on a determination to represent his clients to the highest professional standards. His professionalism, combined with his friendly and approachable manner, are qualities which his lay and professional clients repeatedly highlight.
Tahir is held in high regard by his peers and the judiciary for his integrity and reliability. It was the above qualities which resulted in Tahir's appointment as a Recorder in 2004. That achievement was followed in 2011 by Tahir's appointment as Queen's Counsel.
Tahir's main areas of specialism are in serious crime, including serious and complex drug conspiracies, terrorism and large-scale frauds. Tahir devotes much of his time to prosecuting and defending in gangland shootings and other cases of murder and manslaughter. Tahir has dealt with a number of murder cases over recent years involving allegations of shaken baby syndrome.
NOTABLE CASES:
R v JC and eight others- Preston Crown Court May 2021- Defended a young woman charged with murder and attempted murder in a pre-meditated, drive-by shooting that resulted in the killing of a young Lebanese student. The case was complicated by multiple cut-throat defences and ballistics evidence. All except our client were convicted.
R v KW and three others- Leeds Crown Court January 2021– Prosecuted four defendants to trial for the murder of a rival drug dealer and secured convictions against all.
R v TC and 2 others- Oxford Crown Court October 2020- Defended a 19 year old charged with murder and section 18 offences arising out of a killing relating to drug dealing in Didcot. Case was complicated by multiple cut-throat defences and expert DNA evidence.
R v JS- Leicester Crown Court September 2020- Defended an Indian immigrant who spoke no English in an honour killing murder trial in which he brutally stabbed his wife to death. Case was complicated by the fact the he required an intermediary.  In addition, two consultant psychiatrists and a clinical psychologist were required to give evidence on loss of control and diminished responsibility.
R v KL- Winchester Crown Court August 2020- Prosecuted a young man in a murder trial in a case where there were prison recordings and an expert in rap music and lyrics relating to gun crime gave evidence.
R v CO 2019- Isleworth Crown Court– Was instructed in this historic rape, sexual assault and child cruelty case where the defendant, a music producer was alleged to have abused his step daughters. The case was made more complex by the fact that the allegations were decades old.
R v SL 2019- Leeds Crown Court– Prosecuted a woman in her late 60 who strangled to death her same sex partner following a long history of domestic abuse. The case was complicated by the fact that there were numerous psychiatric reports for the court to consider touching on loss of control, diminished responsibility, post traumatic stress disorder and depression.
R v ES 2019- Bradford Crown Court– Defended at trial a 76 year old man who brutally murdered his 73 year old wife who had been suffering from Alzheimer's dementia. Issues of loss of control arose for consideration.
R v LH 2019- The Central Criminal Court– Defended an 18 year old boy in a murder trial in which there were 8 other family members also charged with murder, wounding with intent and violent disorder. The trial lasted 12 weeks and client was found not guilty of murder.
R v HS 2018- The Central Criminal Court– Defended a 17 year old youth in one of a series of multiple defendant London stabbing trials.
R v AM 2018- St Albans Crown Court– Represented a 17 year old youth in a four week gang related murder trial. The case had multiple cut-throat defences and issues of bad character.
R v DS 2018- Birmingham Crown Court– Prosecuted a man in his 20s for the brutal murder of his own father. The defendant claimed he acted in self defence and sought to rely on the partial defence of loss of control, but was convicted and sentenced to life imprisonment.
R v KA -Cambridge Crown Court, 2018– Defended a young man in a murder trial in which the motivation for the killing was allegedly connected to a drugs turf war.
R v JD – Wolverhampton Crown Court – Defended a mother accused of murdering a child by shaking.
R v TL- Bradford Crown Court, 2018– Defended an Iraqi man who stabbed his wife 21 times in an attempted murder.
R v DB- Leeds Crown Court, 2018– Prosecuted this trial in which a man was charged with murder and grievous bodily harm with intent arising out of a burglary of a house where the occupant was growing cannabis plants. The householder was viciously attacked with a baseball bat and left for dead. Case was complicated by expert, neuropathology evidence.
R v MZ- Bradford Crown Court, 2017– Successfully prosecuted a man in a double murder trial which had complex extradition issues in it. It was the first successful extradition from Pakistan in a decade.
R v AH- Court of Appeal, 2017– This was a sentence appeal in the Rotherham child grooming case which was before The Lord Chief Justice of England and Wales. It was a highly emotive and one in which the lower Court has passed a very long sentence. The Lord Chief Justice began his ruling on the sentence appeal with the following words, "We have received eloquent submissions from Mr. Khan KC…"
R v SS – Bradford Crown Court – Instructed to defend a man accused of murder where allegations of shaken baby syndrome were involved.
R v CM & MJ – Winchester Crown Court, 2017– Successfully prosecuted two men in a murder case in which defendants had attacked, robbed and killed an Albanian drug dealer.
R v YA and others Leeds Crown Court, 2017– Defended a 28 year old woman in a six week murder trial which involved a brutal killing of a young women in the defendant's home and the disposal of the body by burning. During the trial, it was necessary to cross-examine Dr. Daniel Du Plessis, one of the country's foremost forensic neuropathologists. The trial was made more challenging by the fact that the defendant's co-accused engaged in a vicious cut-throat against her.
R v LL – Hull Crown Court, 2015 – represented the defendant in a high profile case involving shaken baby syndrome evidence https://www.bbc.co.uk/news/uk-england-humber-34799801
FAMILY LAW
Tahir is regularly instructed in Family cases where he can draw on his vast experience as a Recorder sitting in Family matters. Tahir has experience of fact findings and final hearings in cases involving complex expert evidence.
TELEVISION APPEARANCES:
Participated as a legal expert in the following programmes broadcasted on national television:
"Drugs Live- Cannabis On Trial." A Channel 4 live broadcast presented by Jon Snow and Dr Chris Van Tilleken 3rd March 2015.
"What The Killer Did Next." John Heald- Crime and Investigation Channel, episode 4.
"Killer In My Village" Sinead Wooding- Season 4, Episode 6.
"My Lover, My Killer". Channel 5- Zatoon Bibi- Season 1, Episode 4.
Education
LLB (Hons), Liverpool Polytechnic
Inn
Other
Recorder (appointed 2004)
Member of  Criminal Bar Association
Languages: Punjabi and Urdu
Click here for my Personal Privacy Statement