Ruth Hitschmann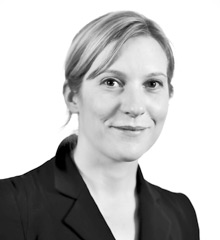 Practice areas
Family, Crime, Immigration
Year of call: 2014
---
Ruth qualified as a solicitor in 2006 and joined a large firm in the South East. Ruth worked as an in-house advocate for her last two years of practice and gained extensive advocacy experience before being called to the Bar in 2014 and joining chambers.
Read More
Ruth is very approachable and able to earn the trust of the most withdrawn or vulnerable clients to the most agitated. She is always well prepared and many times has gone above and beyond the call of duty in assisting clients.
---
Family
Ruth has gained extensive experience in both private and public children law matters and was a member of the Children's Panel when she was a solicitor.
In public law she has regularly acted for both parents and children, in cases of non-accidental injury and neglect allegations against parents. Owing to Ruth's experience in criminal law, she is well placed to deal with family cases where there are concurrent criminal proceedings.
In private law she has experience of representing parents in all aspects of children law including: residence, contact, and the full range of specific issue and prohibited steps orders. Ruth recognises the benefit of agreement in many cases but will stand her ground in those requiring a robust approach.
---
Criminal
Ruth undertakes all aspects of criminal work. She appears in the Youth Court, Magistrates Court and Crown Court and has dealt with a wide range of offences. She is a Grade 1 prosecutor.
---
Immigration
Ruth undertakes work in all areas of immigration, nationality and asylum law. She is instructed on a regular basis to conduct appeals at the Immigration and Asylum Chamber.
---
Recent Cases
Represented a babysitter as an intervener in a fact finding hearing, where the child had sustained fractures to his arm
Represented a mother who suffered from a mental health impairment, where the care plan was for the child to live with the father and have no direct contact with the mother. The Local Authority also applied for a s91(4) order preventing the mother from making any section 8 applications for 12 months
Acted for a boyfriend as intervener in a fact finding hearing, where the child had received substantial bruising on a number of occasions
Represented a grandmother who had cared for the child under a care order for a significant period of time. The mother applied to discharge the care order and the grandmother sought a special guardianship order
Represented a mother who had been in a mother and baby placement for a substantial period of time. The care plan was for adoption and was supported by the Guardian. The expert in the case did not agree with adoption. After two contested final hearings the child was allowed to remain with the mother
Education
BA(Hons) University of Leicester
Legal Practice Course (Commendation), College of Law, London
Inn