Mumin Hashim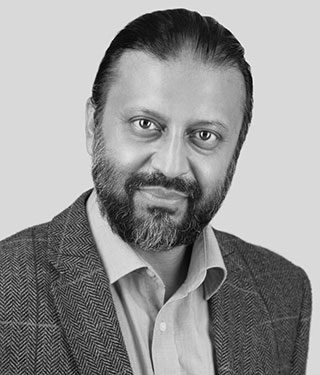 Practice areas
Crime, Immigration, Civil
Year of call: 2000
---
Prior to entering the legal profession, Mumin trained and worked as a journalist where he dealt with human rights and community issues. His practice incorporates criminal, immigration, employment and general commercial law. Mumin has also advised on copyright issues including material on the internet.
Read More
Experience
Mumin is regularly instructed by a wide range of firms from all over the country including in particular Birmingham, Manchester and Derby in addition to London and the South East.
Mumin is presently instructed on a number of fraud cases involving alleged nationwide sophisticated gaming fraud, international passport fraud and alleged estate agent fraud. He is also instructed on a number of sex cases. This is in addition to his regular instruction on a wide range of immigration & asylum and employment cases.
In criminal law, Mumin has conducted trials across a wide range of offences involving complex fraud, serious assault, sexual assault and rape, in addition to being led on murder. Having once been a police station representative, Mumin is familiar with criminal proceedings from the point of charge to jury trial.
Additionally, Mumin is also instructed by a number of solicitors for immigration and asylum cases including student and marriage entry clearance applications. Quite often, he finds this area of law complements his criminal practice, for example, where those who breach UK immigration law are prosecuted.
Having once worked in a top employment firm, his knowledge of employment law was further consolidated during pupillage under a pupil master who is now a full time employment judge. Mumin represents both employees seeking redress, be it for unfair dismissal or redundancy, and employers seeking to defend claims. His clients have included ordinary workers to schools and business organisations.
Cases of Note
R v Karim [2018] – Large scale immigration and tax fraud This was a 35-week trial that involved fraudulent applications of Tier 1 general and entrepreneur visas. Seventy-nine bogus companies providing fake payslips were used to facilitate 900 fraudulent visa applications by Bangladeshi nationals featuring the recycling of cash. In addition, hundreds of bogus tax repayment claims were submitted.
Mather and Aviva [2018] –Fundamental Dishonesty application- successfully fought of an application by the Respondent to establish that the Claimant was Fundamentally Dishonest in withdrawing his claim for personal injury three weeks before the start of the trial.
R v Pendyala [2016] Immigration fraud following the same pattern as the case of Lattupally.
R v Lattupally [2016] Large scale immigration fraud centred on the abuse of the previous Home Office's Highly Skilled Migrant Programme. This policy allowed highly qualified foreign nationals to work in the United Kingdom (UK), either employed or self-employed. The method used by the defendants was simple yet complex in execution. Payments received by the alleged organisers of the fraud from visa applicants were administered through shell companies before being recycled back to applicants in the guise of income from bogus self-employment.
R v K – Snaresbrook Crown Court [2014] – An allegation of under aged grooming that involved an anonymous tip off and a non-existent victim.
R v M [2013] – Swindon Crown Court – Allegations of rape and false imprisonment involving an under aged complainant and older male.
R v Juber Ahmed [2013] – Manchester Crown Court (Crown Square) – This was an important case that lasted six months long concerning immigration offences involving money laundering, the alleged production of false passports and false passport stamps. Central to defending the case were the methods employed by the Home Office in keeping records and detecting fraudulent applications. This case was a precursor to the Windrush affair that emerged in 2018. The problems facing the Windrush generation in proving and establishing their right of abode was first faced by the some of Bengali clients in this case. During the duration of this trial, information was disclosed by long term Home Officials that the then Labour government had ordered the destruction of around 25 million files effectively erasing records that could have established the right of abode of commonwealth citizens who had migrated to the United Kingdom after the war.
R v Blondell [2012] – Liverpool Crown Court – This case involved a multi-handed conspiracy to bring drugs into the United Kingdom from abroad. The allegations involved the onwards supply of heroin and cocaine from London the North East of England. This part of a wider operation conducted the Serious Organised Crime Agency.
R v I [2012] – Birmingham Crown Court – An allegation rape against a young male that was undermined from evidence given by the complainant's friends.
Lumenica v Government of Albania [2012] EWCA 2589 – This case concerned the Extradition Act 2003 and the imposition of strict time limits when filing a notice of appeal. The court held that where, through no fault of the appellant, there was a late filing and service of notice, the court had a discretion to extend time for both filing and service despite the strict statutory time limits giving effect to article (1) of the European Convention of Human Rights.
R v Gray [2012] – Birmingham Crown Court – This was one of a serious of trials that arose from the nationwide riots that took place the previous year in protest at the shooting of Mark Duggan by the police in London. This particular case involved the targeting of the police by firearms and the attempted shooting of a police helicopter by gang members.
R v Bajramaj [2011] – Basildon Crown Court – A multi-handed firearms and sophisticated underground drugs factory case.
The Chief Constable of the British Transport Police v Soods Solicitors – This case involved successfully resisting the application of the BTP for a wasted costs order against the Respondent solicitor.
R v MS & ES – Canterbury CC/High Court – Facilitating the breach of immigration law. The defendants were convicted of smuggling ES's son into the UK for the purpose of seeking asylum. The decision to prosecute was challenged on the basis that Article 31 of the Refugee Convention offered a remedy against prosecution. In addition, it was argued that the scope of section 31(3) of the Immigration and Asylum Act 1999 should be construed to comply with Article 31. This case gave rise to a novel point of law concerning the relationship between Article 31 and section 31(3) of the 1999 Act namely whether a genuine asylum seeker can be prosecuted for assisting another genuine asylum seeker (whose claim is subsumed into his own by virtue of their parent/child relationship and especially where the Home Secretary has accepted them as presumptive refugees) to enter the UK in breach of immigration law.
R v Choudhury [2010]– Winchester CC – Complex mortgage fraud involving buying and reselling properties between family and close friends.
R v G – Chelmsford CC – Represented a young male accused of rape by a female whose case was undermined by the existence of CCTV footage.
R v C – Blackfriars CC – Sophisticated car insurance fraud carried out by dishonest claim handlers that ensnared unwitting victims.
R v Khan – CCC/CA – Was led on a murder trial that featured an anonymity order. The case was one of the first ones heard after the decision in R v Davis [2008] UKHL 36 and the subsequent Criminal Evidence (Witness Anonymity) Act 2008.
R v A – Croydon CC – Involved a large-scale internal bank fraud organised by bank employees working in call centres with access to customer details.
R v A – Bournemouth CC – Allegation of sexual offence against a minor made against a member of the same family.
R v Stoica Lika – Southwark CC – Concerned a major card-cloning factory that was responsible for a great number of identity frauds through cloned bankcards.
Mumin is public access qualified.
Click here for my Personal Privacy Statement