Luka Maxted-Page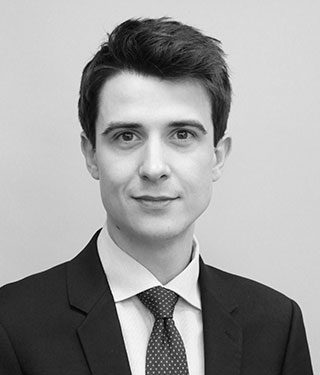 Practice areas
Civil, Family
Year of call: 2015
---
Luka is able to host conferences, meetings and hearings using Zoom and MS Teams
Luka joined Chambers in December 2018 and successfully completed his pupillage in April 2018.
Luka has a broad experience in family, civil and commercial matters and continues to receive instructions in all areas.
Prior to coming to the Bar, Luka acquired relevant experience working as a paralegal for a London set of Chambers undertaking general civil, family and commercial work. During this time, Luka has developed a strong grounding in drafting.
Luka is thorough in his work, compassionate and committed to delivering the best result for his clients.
Luka has expertise in Direct Public Access and is authorised to accept instructions from members of the public directly. Luka's clients have complimented him for his commitment and excellent client care.
Read More
Civil
Luka has broad experience dealing with civil and commercial matters that regularly involve contractual disputes, landlord and tenant disputes, personal injury, road traffic liability and quantum hearings as well as experience dealing with injunctions including Anti Social Behaviour (ASB) injunctions.
Luka has drafted opinions for his clients on matters such as:
the merits of bringing an appeal against a bankruptcy order; and
the merits of bringing a professional negligence claim against a legal representative; and
the merits of bringing an action for breach of sales contract
Luka has experience drafting Particulars of Claim on various matters such as:
 breach of contract matter against a publicly listed Oil Company;
breach of contract against a wedding business
Luka has experience drafting Defences such as:
Defence and Counterclaim for a Share of Freehold company and Management Company against a leaseholder in a leasehold dispute; and
Defence and Counterclaim in repossession proceedings for a tenant involving disrepairs
Family
Luka is  regularly instructed in family matters and provides advice and representation in Private Law, Public Law, Financial Remedies and Injunctions.
Luka has also successfully represented in an international family divorce involving issues of jurisdiction and "forum (non) conveniens" between Thailand and the United Kingdom.
Private Law
Luka regularly appears on behalf of either parent involving applications for Child Arrangement Orders, Prohibited Steps Orders, Specific Issue Orders and regularly represents parents at Fact Finding Hearings or in intractable hostility cases.
Luka also has experience in cases involving internal and international relocation cases as well as assisting other family members that may be interested in securing contact.
Luka has successfully opposed an appeal brought against a Child Arrangement Order, previously obtained for his client at first instance.
Care Proceedings
Luka has a developing practice in public family law and has represented parents from first hearings to contested hearings in matters involving child neglect, substance misuse and issues of domestic violence.
Financial Remedies
Luka successfully represents clients in a variety of financial matters from FDR to Final Hearings, including a number of cases involving high value assets with international dimensions.
Testimonial:
"With the clock ticking down to a divorce final hearing (financial remedy) I started exploring the option of a Direct Access barrister for representation, having been a litigant in person up to that point. I called 2KBW and spoke with Daren who was very helpful in terms of my initial contact. He provided clear guidance and pricing. Hannah also provided first class support with submitting information and subsequent questions that arose. They both created an excellent first impression of 2KBW and I was immediately filled with confidence. Based on recommendations from Daren I chose Luka Maxted-Page to represent me at the final hearing. I cannot speak highly enough of Luka. He only had a short window to prepare for the case as I had left it late to appoint representation. With this in mind, Luka quickly got to grips with the salient points of the case and was meticulously thorough in his research. He gave clear directions as to what he considered relevant and his knowledge of family court matters reassured me at a very difficult and challenging time. I knew I had made the right choice. Luka conducted himself with the the utmost professionalism at all times and his preparation for the final hearing was exemplary. On the day, with emotions running high, Luka was calm and assured at all times and used his experience, insight and acumen to achieve a fair result for everyone. Luka is a credit to 2KBW, his friendly, professional dedicated and knowledgeable approach made all the difference. I would have no hesitation in recommending Luka Maxted-Page and 2KBW to anyone needing the help of a barrister".
Mr W, Direct Access client
Education
ADR Group – Accredited Civil and Commercial Mediator
City Law University – BPTC
University College London – LLM in International Commercial Law
University Paris Nanterre – Master 2 (MBDE) in comparative contract law
University of Essex – LLB English and French Laws with Maîtrise
Inn
Click here for my Personal Privacy Statement