James Culverwell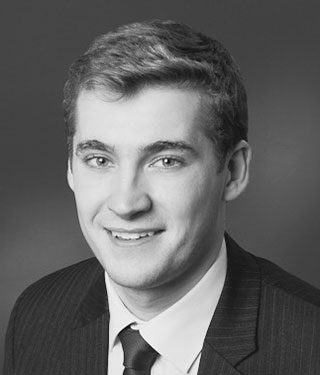 Practice areas
Civil, Crime, Family,
Year of call: 2013
---
James joined chambers in July 2017 following the successful completion of his pupillage under the supervision of Matthew Farmer and Beresford Kennedy.  James has been commended for his personable style; engaging in court and with clients alike, he translates complex legal matters into comprehensible advice.
James is able to accept instructions on a direct access basis.
Read More
During pupillage, James gained experience in crime, civil, family and immigration hearings, receiving instructions in each of these areas during second six.  Before joining chambers, James worked as a county court advocate gaining extensive experience in the areas of landlord and tenant, mortgage repossessions, insolvency, contract, personal injury as well all manner of procedural hearings and small claims proceedings.
Civil
James acts for landlords and tenants in possession claims and deposit protection disputes.  James also advises and represents clients in other property matters including leasehold disputes, trespass, mortgage repossessions, boundary disputes and TOLATA claims.  James is regularly instructed in road traffic accident, credit hire and holiday sickness claims, which include advising on quantum and drafting pleadings.
Beyond property and personal injury matters, James has appeared in the County Court and High Court in insolvency and bankruptcy matters, and has a wealth of experience in general contract disputes, and issues of tortious liability.
Recent cases:
G & Ors v K & Ors (2018) – acting for freeholders in a claim for injunctive relief and damages relating to interference with an easement.
L v S Ltd (2018) – acted for the claimant in an application to substitute parties in a claim involving employer's liability, TUPE transfers, limitation and QOCS.
H v I (2018) – provided advice and drafted pleadings for a wrongful forfeiture claim seeking injunctive relief and damages. The dispute centred around a sub-lease for restaurant premises.
M v T Ltd (2018) – acted for the claimant defending an application for a finding of fundamental dishonesty after discontinuance.
H v H (2018) – acting for a joint owner responding to an application for an order for sale including a claim for occupation rent.
S & T v N (2017) – provided advice and representation in relation to TOLATA issues in a dispute between joint owners of property previously the subject of an agreed order for sale.
A v G (2017) – advised and represented a Landlord in a deposit protection dispute which centred around the definition of an assured shorthold tenancy and whether the rooms let to the claimant formed 'part of a building'. A favourable settlement was negotiated part-way through the hearing.
C v S (2017) – advised on a boundary dispute involving land purchased for development for which there were a variety of contradictory plans.
B Ltd v M (2017) – advised a freeholder on multiple breaches of a covenant against alterations.
L Ltd v C (2017) – advised and represented the owner of a 'guesthouse' offering long-term lets in a successful trespass claim after an occupier refused to vacate.
V v B (2017) – acted for the tenant in possession proceedings for anti-social behaviour which had resulted in convictions, and negotiated a favourable suspended order.
Crime
James is a Grade 1 CPS panel advocate regularly instructed to prosecute and defend trials in the Magistrates', Youth and Crown Courts. He has appeared in courts across London as well as on the South-Eastern, Western and Midlands circuits.
James has received instructions on a range of offences including sexual offences, drugs offences, offences against the person, property offences, public disorder, and fraud.
Recent cases:
R v B & B (2018) – acted for a defendant on trial for conveying cocaine into prison.
A v DPP (2017) – successful appeal against conviction where A was of good character and accused of obstructing police, conviction for which would potentially lead to a loss of employment. The appellant was acquitted on the basis there was no case to answer.
R v S (2017) –  obtained an acquittal for a defendant accused of benefit fraud. S was prosecuted for dishonestly failing to notify a change having received a £60,000 inheritance.
HC v P (2017) – successfully represented the accused in a DVPO which would have caused his business to collapse. The complainant made allegations on video to the police but her evidence was dismantled in the hearing.
R v B (2017) – successfully represented a youth accused of possessing an offensive weapon in a public place, including an application to exclude admissions.
Family
James experienced a range of family matters during pupillage including matrimonial claims as well as public and private children disputes.  James has acted for the child's guardian in an application for an interim care order, as well as receiving instructions in private children matters and ex parte non-molestation orders. James' experience in property law makes him well-placed to advise on TOLATA disputes.
 Education
LLB (Hons) – First class
BPTC – Very competent
Memberships
Inner Temple
Property Bar Association
Click here for my Personal Privacy Statement