Islam Khan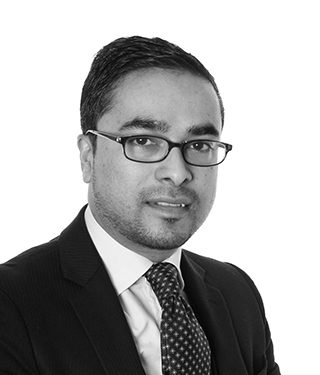 Practice areas
Immigration, Civil
Year of call: 2008
---
An outspoken advocate when it comes to pursuing the rights of vulnerable individuals and unfair policies. Whilst fearlessly pursues points when it comes to equitable remedies abuse of process, Islam also advances points of principles and compelling factors. Islam focuses on Crime and Public law whilst developing a practice in Employment, Regulatory and Civil Law.
Read More
Experience
Islam is instructed by the Secretary of State for Home Department on immigration and asylum matters. Most recently an immigration judge commented:
"…He has great courtroom style and is aware of the scrupulous attention he gives to preparation, in addition to the effort he commits to the actual hearing." The SSHD commented "The commendation received was also highly complementary about his advocacy style. I have personally observed him on a number of occasions and would describe his advocacy as calm, professional, proportionate and measured. He is very well aware of ethical standards and he demonstrated his awareness of disclosure by challenging me on that very issue."
Islam started working from a very young age in various respective fields to hold and support his family; he comes to the Bar with life experience with a varied career background from becoming a chef to owning his own catering businesses and working as a host at the Millennium Dome.
He studied law as a mature student whilst working full time as a civil servant in various departments of the Foreign and Commonwealth Office. This included the Human Rights Policy Department, UK-visas, Consular and heading the Benefits, Pay and Policy section of HR. He also served overseas as an Entry Clearance Officer in Nigeria.
Islam has a developing practice in immigration and asylum law whilst working as a consultant for a number of public law solicitors. Including criminal defence and civil law. He was involved in the Court of Appeal case of Quila researching on points of law for Bibi and others challenging the UK government's age bar policy on overseas marriages that lead to striking down legislation.
Whilst sitting on a number of panels in Tower Hamlets he advises a number of charitable organisations across the country and has developed an array of knowledge in the area of charitable organisations and the legal implications. Notably, he was involved in engaging various stakeholders to diffuse the Shajalal mosque fiasco in Tower Hamlets that was widely reported. He is also legal advisor to the Council of Mosques, the Stifford Centre in Tower Hamlets and has worked at Bail for Immigration Detainees, Fair Trials International, Hackney Law Centre and is an active mediator for Tower Hamlets Mediation Services.
Islam is a Grade 1 Prosecutor on the CPS list.
Cases of Note
Court of Appeal – Quila and Ors challenging the UK age bar to overseas marriage.
Court of Appeal – BH (Ghana) challenging that it is contrary to fair trial rights to allow the SSHD to adduce evidence on its own volition without challenge.
Court of Appeal – ST (Gambia) challenging the SSHD that the rule on intention to live together and subsisting marriage should apply at the same time and not separately.
High Court (Admin) SH (Mubin) – Challenging the MOJ's inefficient and incompetent new interpreting services that denies access to justice and develop a caselaw guidance given the severe civil war in Bangladesh.
Awards & Achievements
Canary Wharf Legal Training Award.
Tower Hamlets Bar Vocational Award.
Fight for injustice Scholarships.
Tower Hamlets Mentor of the Year 2009.
Lady Oliver Cup Mooting Competition (Quarter Finalists).
Judge at BPP annual moot competition.
Presented on Visa and Human Rights training courses at Foreign Office.
1st year LLB Moot assessments (1st class).
Education
LLM Public Law & Human Rights (King's College, London).
Bar Vocational Course, ICSL (Outstanding in Legal Research).
Memberships
Amicus.
Amnesty International.
The British Computer Society (Cybercrime panel).
The Criminal Bar Association.
The International Law Association.
The Haldane Society.
Click here for my Personal Privacy Statement