Helen Easterbrook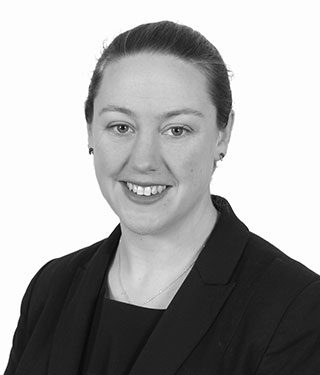 Practice area
Crime
Year of call: 2011
---
A calm and steady presence in court, Helen cuts straight to the issue with thorough preparation and persuasive argument.
Read More
Since joining Chambers in 2013 Helen has practiced in a wide range of criminal law.  Representing clients in both the Crown and magistrates' courts on a daily basis, she has experience of violence, drugs, sexual offences, dangerous dogs and fraud matters. Regularly instructed in youth cases and on matters involving interpreters, Helen is able to explain complex concepts in simple terms.
Experience
A former officer in the Royal Navy, Helen retains her connection to the service through the Royal Naval Reserve.  Acting as a trainee legal advisor during national and NATO exercises, and representing personnel during disciplinary hearings, she continues to expand her experience in both domestic and international law.  With a keen understanding of the pressures faced by service personnel, Helen is well placed to balance their needs against the realities of the legal frameworks in which they operate.
As a direct access, or public access qualified barrister, Helen accepts instructions directly from those needing representation in the criminal courts.  Supporting clients from first appearance through to appeal she provides a personal service at a price agreed and explained up front.
Helen also teaches on a regular basis, delivering courtroom skills training to professional witnesses from across the country.  She was a speaker at the 2013 International Communications Data and Digital Forensics Conference and is a trusted voice within the fast changing specialisations of communications data and cybercrime.  With the sunset clause of the Data Retention and Investigatory Powers Act 2014 due to come into effect at the end of 2016, Helen will be considering and writing about draft legislation as it is produced.
Recent Cases
R v W [2015] Counsel for the defence in a case of possession of offensive and bladed weapons in public.
R v A [2015] Represented the defendant in a matter of wasting police time where the case rested on Skype and other computer records.
R v H [2015] Counsel for the defence in a matter of a £19,700 benefit fraud.  Substantial personal mitigation put forward resulting in a fine of £250 rather than custody being imposed.
Education
University of the West of England 2010-2011, Bar Professional Training Course
Open University 2007-2009, LLB (Hons), Upper Second Class
Awards and Achievements
Royal Navy Scholarship (Officer, Aircrew)
Arkwright Scholarship
Member Great Britain Rifle and Pistol Squad 1999 – 2003.  Competed at the 2002 World Championships, Lahti, Finland and acted as the Assistant Squad Manager for the 2006 Nordic Championships.
Memberships
Criminal Bar Association
Association of Military Court Advocates
Bar Pro Bono Unit
International Society for Military Law and the Law of War (UK Group)