Chantelle MaGrath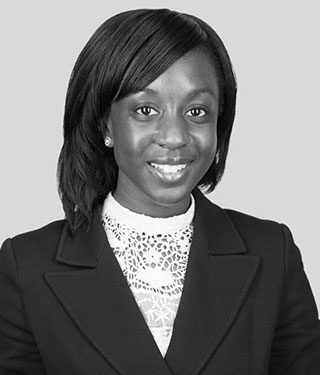 Practice areas
Crime, Immigration
Year of call: 2011
---
Chantelle specialises in Criminal and Immigration law and approaches all cases with the utmost professionalism. She strives to provide excellent client care through detailed preparation and precise execution of courtroom advocacy. Chantelle is public access qualified and thus able to accept instructions directly from members of the public in appropriate cases.
Read More
Crime:
Chantelle primarily defends and her practice covers the full range of chambers' work from violence and drugs to dishonesty and road traffic offences. Chantelle provides clear and robust advice and is happy to advise on complex matters of law and procedure in conference or in writing. Chantelle also undertakes prosecution work and is a Grade 2 CPS prosecutor.
Immigration:
Chantelle is expanding her practice in Immigration and Asylum law and frequently appears in the First Tier and Upper Tier Tribunals. She is experienced in dealing with a wide range of cases including appeals under the points based system and student and marriage entry clearance appeals.
Recent cases of note
Crime:
Crown Court
R v F (Isleworth): Defended a Royal Mail employee charged with intentionally opening postal packets and theft from a postal packet;
R v M (Ipswich): Defended a client charged with a possession with intent to supply (heroin and cocaine) and possession of criminal property.
R v C (Wood Green): Defended a client charged with possessing a false identification document with intent and failing to surrender (4 year absence). Client sentenced to 6 months for each offence (consecutive).
Magistrates' Court
R v C (Maidstone): Successfully defended a client who had been charged with assaulting another resident at his hostel with a knife.
R v A (Bromley Youth court): Successfully defended a 14 year boy of previous good character charged with sexual assault.
Dangerous dogs
R v P (Bexley Magistrates' Court): Defended a client charged with three offences contrary to section 3 DDA 1991. After conviction, it was successfully argued that the dogs did not pose a danger to public safety thus no ancillary orders were made.
Road traffic cases
Chantelle is regularly instructed to represent clients at trial, exceptional hardship or special reasons hearings.
R v B (Ealing Magistrates' Court): Successfully defended a client charged with driving whilst disqualified after discrediting the identification evidence of two police officers.
Immigration:
O v SSHD: Instructed to make an emergency injunction application in order to prevent the client's deportation to Nigeria.
P v SSHD: Instructed to represent a client refused leave to remain despite previous successful Article 8 appeal. Reliance placed on the case of Devaseelan that the first adjudicator's determination should be the starting point and the client's family life had in fact been strengthened since the last appeal.
M v SSHD: Represented client at the First Tier Tribunal after refusal of his Tier 1 (entrepreneur) application.
Education
BPP Holborn – Bar Professional Training Course 2010 – 2011 (Outstanding)
University of Kent at Canterbury – English Law and French Law LLB (First Class Honours)
Languages
Working knowledge of French
Basic Spanish
Memberships
Criminal Bar Association
Immigration Law Practitioners' Association