Ann-Marie Talbot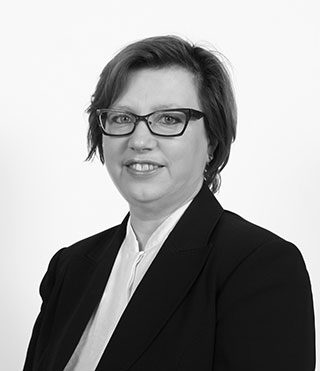 Practice area
Crime
Year of call: 2006
---
Ann-Marie returned to Chambers after spending 4 years as In-House Counsel at Mackesys Solicitors and Brady Eastwood Pierce & Stewart Solicitors.
Read More
She is an experienced and effective trial advocate with a reputation of connecting well with Juries on complex and emotional cases. Her practice predominantly concerns all aspects of criminal defence.
Experience
Ann-Marie has previously been instructed by the London Boroughs of Lewisham, Southwark and Hillingdon in housing matters and by the London Borough of Haringey for regulatory crime. Ann-Marie will be further developing her Criminal Prosecution practice and expects to join the CPS List in September 2015.
Ann-Marie has also had significant success in the Immigration Tribunals covering working and student visas, entry clearance, bail, discretionary leave, final and removal hearings as well as asylum cases.
Prior to joining the Bar, Ann-Marie had a highly successful commercial career as an Auctioneer at Christie's and Brooks specialising in Automobilia, Maritime and Aviation works of art. She also worked at Deutsche Bank during the infamous Y2K before accepting the position of Manager at the Pullman Gallery in St. James's. These various professional roles over 14 years translate to a wealth of life experience and a valuable insight in to commercially related cases. Ann-Marie applies her distinct attention for detail to all aspects of a case and is well regarded for her warm and reassuring manner with her clients and their families.
Ann-Marie was awarded pupillage at Staple Inn Chambers under Ms Veronica Ramsden (Head of Chambers) and later joined 11 Gray's Inn Square Chambers in her capacity as a then Dual-Practitioner.
Sample of Notable Cases
R v KB & Ors, Exeter: Instructed Junior on 13-hander Drugs Conspiracy/Money Laundering case, not guilty verdict entered.
R v DL, Inner London: Secured a suspended sentence for a man accused of Attempting to Incite Sex with a Child, reported extensively in local Essex press.
R v RB, Croydon: Instruction of and conduct of a trial with an Intermediary for Defendant with an IQ of 57.
R v MH & Ors, Basildon: Led Junior brief on 3 month Drug Conspiracy trial with significant volume of cell site data.
R v GA, Blackfriars: Fitness to stand trial hearing involving cross examination of two Psychiatrists and two Psychologists. Directed not guilty verdict.
R v MJC, Court of Appeal: pro bono instruction – renewed application for appeal granted following refusal by single Judge; total sentence reduced from 3 years to 18 months. This was a direct referral from Mark Leech of The Institute for Prison Law.
R v SM, Kingston: secured a Conditional Discharge for a 19 year old man accused of affray with 6 others involving a victim being kicked, punched and stamped on by the group at 5pm on Kingston High Street.
R v DW, Inner London: successfully defended young man accused of sexual assault, won bad character argument suppressing a similar previous conviction two weeks prior to this allegation.
R v NN, Central Criminal Court: successfully defended a burglary charge, bad character of non-defendant.
R v MB, Southwark: successfully defended a gang related individual for robbery on the underground, numerous witnesses, CCTV, bad character.
R v SC & ors, Kingston Crown Court: successfully defended a home owner charged with benefit fraud in excess of £100,000, in association with her tenant.
Education
BA Hons (Psychology & History of Art) University of Leicester
GDL & BVC at College of Law London
Awards and Achievements
Blackstone Entrance Exhibition Scholarship
Certificate of Competency in Prison Law – Pass with Distinction
Memberships
Criminal Bar Association
Liberty
Middle Temple
Ann-Marie is Public Access Qualified
Click here for my Personal Privacy Statement