On Wednesday 6th October at 16:30,  Steven Perian QC will be taking part in the first session of "See it – Believe it – Achieve it"  open to all via Teams which will involve an interview style format with hosts getting to really know speakers – from their early beginnings to finding their career and the obstacles they may have faced along the way and what they did to overcome them.  There will be a Q & A at the end for the audience to get involved.
It's impossible to be inspired or believe in something when it is not visible.  It's even more difficult to have confidence or feel welcome in an institution or an organisation when you do not see yourself or someone who looks like you represented there.  As a public facing body we all bear the burden of ensuring that the people we seek to serve are visibly represented within our ranks at all levels especially those at the senior leadership level.  So like Sisyphus pushing that boulder we must continue with our efforts in finding new ways to motivate and inspire each other to keep going, to develop the confidence to be the change we want to see.   
It is with that wish the RIWG would like to celebrate and approach Black History month this October – in the spirit of "Inspiration".  Therefore, we are so pleased to announce a series of talks / conversations with 3 individuals who have achieved a great deal in their chosen careers and who stand as a visible representation of success and inspiration for us all.  They visibly demonstrate the "See it, Believe it, Achieve it" mantra.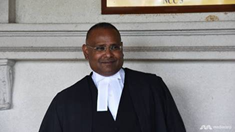 Session 1- Wednesday 6th October 2021 @ 4.30pm – Steven Perian QC  
A leading counsel in Crime for London.  He has extensive experience in defending and prosecuting in the most serious criminal offences.  Appointed Queen's Counsel in 2016 having previously been appointed Junior Counsel to the Crown (Attorney General's Panel of Prosecution Advocates – List A (London and South Eastern Circuit). He was appointed at the highest Level (Level 4) on the Advocates Panel List and a (Level 4) prosecutor on the Fraud Panel and Rape List.  Steven was formerly a Senior Crown Prosecutor, for Special Casework Division (London) and a part-time law lecturer.